1 sheet puff pastry, rolled to 10 x 12 inches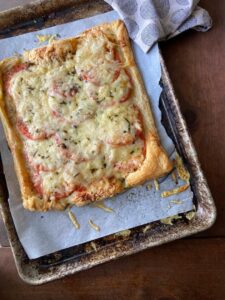 3 tablespoons stone-ground mustard
3 large tomatoes, sliced 1/4-inch thick
8 ounces shredded Swiss cheese
2 tablespoons minced tarragon
Salt and pepper
Heat oven to 425F. Line a baking sheet with parchment or foil. 
Place pastry on prepared baking sheet and spread with mustard, leaving a 1-inch border around all sides. Lay tomatoes on mustard, overlapping edges. Season with salt and pepper. Cover tomatoes with cheese, then sprinkle with tarragon. 
Bake until pastry is golden and cheese is melted, about 30 minutes. Let stand 5 minutes before slicing. Serve warm or at room temperature.