By R. H. Lannen
A West Coast transplant, Top Round has the distinct feel of a California institution. The menu is a cross between an Arby's and Shake Shack, with everything from burgers and chicken to roast beef sandwiches and even a full bar to boot. With more than 20 different dining options, the menu feels a bit overwhelming.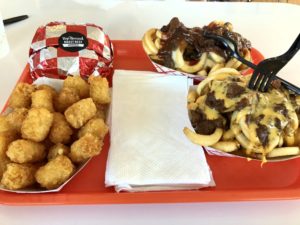 The burgers are smashed and cooked on a flat top grill like many burger restaurants these days. The Wizz Burger is topped with caramelized onions, lettuce and tomato and smothered in their house made "Wizz Cheese," a creamy cheddar cheese sauce. The final product is sinfully tasty but so messy; I eventually had to eat the sandwich with a knife and fork. 
The fried chicken in the chicken sandwiches is crispy and juicy, shining brightest alone like on the O.G. Chicken, topped with only pickles and a light spread of mayo. The buffalo chicken sandwich topped with cheese is an enticing sounding prospect. Unfortunately, in reality, it was so heavily drenched in buffalo sauce that it left the chicken soggy and the breading falling off with every bite. 
The roast beef at Top Round is the restaurant's specialty, and it lives up to its name. The O.G. Roast Beef is delicious and straightforward, not needing extra frills to make it worth eating, much like the chicken sandwich, which shares the same moniker. The roast beef itself is incredibly moist, despite being sliced so thin, and is topped with a warm and flavorful au jus, but not so much that the bun was soaked. Beyond the plethora of sandwiches, Top Round offers an equally broad selection of potato-based goodies to go with your meal. The tater tots, which of course are also available with cheese on top, are so thick-shelled and crispy every bite was audible to those around me.
Chili cheese fries are always a personal favorite of mine and, while heartily topped, I found the chili lacking in the spice I was seeking. However, Dirty fries were one of the most addictive things I have eaten. Caramelized onions, a special creamy sauce dubbed round sauce, beef dripping gravy and provel cheese all adorn the french fries. Provel cheese is a creamy midwestern creation consisting of cheddar, Swiss and provolone cheeses amalgamated into one that melts perfectly over anything. Keeping on-trend, Top Round boasts a creative custard menu that is ordered either as concrete, a sundae or even in a cone.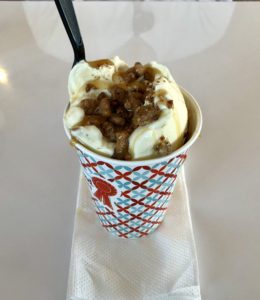 The Turtle concrete (pictured) contained the perfect combination of praline pecans, brownie pieces and caramel and with almost an equal amount of toppings to custard. The custard, while delicious, is so flavorful and rich I was unable to make a dent in it. Ultimately, Top Round has so many choices of food and drinks and even alcohol, it is impossible not to feel like you may be missing out by choosing only one thing. By moving into a booming area and offering as many amenities as possible, including a large outdoor patio and even a classic style walk-up window for speedy ordering, Top Round has poised its first Texas location to be a lasting one. 
Top Round
4800 Bryan St.
Dallas, 75204
214-647-1075
11 a.m. – 10 p.m. Sunday-Thursday
11 a.m. – 11 p.m. Friday Saturday