By Juliette Coulter
Grant Halliburton Foundation held The Hope Party, its largest fundraiser of the year, on November 18 at The Factory in Deep Ellum. More than 540 supporters attended the sold-out soiree, which raised a record $430,000 through underwriting, tickets, live and silent auctions, a tribute wall and a wine pull. Proceeds from the event support the Foundation's work providing mental health education, resources and support to North Texas youth and their families.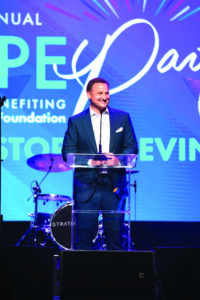 Steve Noviello, FOX Television station's consumer reporter, welcomed guests. "What started out as a small fundraiser 13 years ago has turned into THIS, a fun event with dinner, dancing and fundraising to raise vital funds for the Foundation's youth mental health programs." 
Hope Party co-chair Jennifer Burns said, "I was introduced to the great work of the Grant Halliburton Foundation in 2020, when I had the opportunity to watch their Hope Party at Home livestream event, and I knew I wanted to find a way to contribute in some fashion to this organization and its important work in North Texas." 
This year, the event co-chairs introduced the Tribute Wall, an opportunity to honor or remember someone special and support mental health and suicide prevention. 
Hope Party co-chair Diana Hamilton stated how she learned about the Foundation through the Becker family. 
She thanked the many donors and the attendees for showing up and for supporting an organization that has helped so many. Hamilton also expressed her thanks to valet underwriter and Ruby Sponsor, Sewell Automotive, and Entertainment Underwriters Leigh Anne and Dave Clark. 
The Rev. Dr. Pamela Fox, Grant Halliburton Foundation board member, gave the invocation, and guests enjoyed dinner.
After the meal, Kevin Hall, Grant Halliburton Foundation president, introduced the honorary co-chairs, Lael and Peter Brodsky. 
The Brodskys talked about their personal experience with mental health and the importance of helping with mental health and suicide prevention. Lael remarked, "All people, whether grieving or not, want to be seen and understood and feel like they are not alone. And if we can show our children how to be okay when things are hard or situations are uncomfortable, maybe their anxiety will go down too, which is really the most important goal of all."
Vanita Halliburton, Grant Halliburton Foundation co-founder, and Kevin Hall took the stage together and discussed the following milestones for the Foundation this year:
• The Foundation's mental health education programs are growing exponentially and have reached nearly 300,000 students and adults.
• Its Thrive program, which helps schools change the way they address mental health, has grown from 56 to 119 schools in the past year. 
• The Hope Squad program, a student-led peer-to-peer group that promotes mental health and suicide prevention in schools, has grown from 16 to 49 schools in the past year.
• Grant Halliburton Foundation co-hosted the first-ever Hope Squad conference, drawing more than 1,500 Hope Squad students from across North Texas. 
• The Foundation launched a young professionals group, GHF YP, with more than 90 members.
• In April, the nonprofit moved to Pegasus Park, a brilliant vision from Lyda Hill Philanthropies to create a community of nonprofits working collaboratively.
After the live auction, attendees danced the night away to the music of STRATOSPHERE by Scott Michaels Entertainment.