By Shari Goldstein Stern
Laura Lites triumphs as a force to be reckoned with in her always-challenging roles for Dallas theater. 
As Pamela in Uptown Players' (Uptown) current production of "Head over Heels" (HOH), Lites fills the stage with another uncanny performance. Running now through December 18 at Kalita Humphreys Theater, HOH is a must-see for Uptown enthusiasts. For virgin Uptown patrons, it's eye-opening as to the quality of Uptown's engaging theater experience, with inventive productions and diverse casts and characters.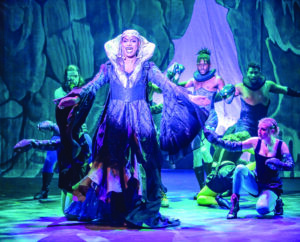 Dallas audiences have thrilled over Lites' Uptown performances, including "Priscilla, Queen of the Desert," and "Disaster! The Musical." Patrons have also enjoyed Lite's memorable characters in Dallas Theater Center's "Hair," "Les Miserables" and exciting roles at numerous local theaters. Lites, as Pamela in HOH, commands the stage. Her priceless facial expressions alone speak volumes.
Also larger than life is Lee Walter, fresh off her incredible performance as Lola in Uptown's "Kinky Boots." Now that's a role Walter would have a Broadway audience sinking its teeth into. In "HOH," the statuesque Walter has her usual exquisite face as Pythio, who towers over the cast, height-enhanced for the character, and is adorned with her dramatic, long black dress. Walter alters her vocals and speech from one scene to another and in her many quips. She entertains with unexpected, graceful arm and hand movements. As usual, she is a pleasure to watch.
When a musical opens with a raucous '80s hit "We Got the Beat," you know you're about to enjoy a high energy production. 
Music from the all-female '80s rock band, the Go-Go's, fueled by Uptown's five-piece orchestra, set the tone for the surprising story. Other Go-Go's numbers in the score include "Heaven is a Place on Earth," "Our Lips are Sealed," "Vacation" and "Mad about You."
Following the performance, Uptown's hair and makeup designer Michael B. Moore said, "Those are my wigs." That is a thumbs-up to the stewardship every Uptown actor, designer, producer, musician and crew expresses. Uptown is a tight team of professionals.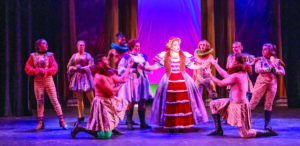 Written by Jeff Whitty and James McGruder, who cracked us up in "Avenue Q," "Hedwig and the Angry Inch" and "Spring Awakening." HOH receives more applause and "Wahoos" throughout the show than LOLs.
Suzi Cranford, Uptown's inventive costume designer, celebrates 20 years with Uptown in 2023. She is proud to have been part of Uptown's team during its second season in 2003. In HOH, Cranford with her assistant designer, Breianna Bairrington, adapted the out-of-this-world costumes originally designed by Adrianne Phillips. Each is more eye-catching than the one before it.
Uptown's promotion describes "Head over Heels" as "a hilarious and sexy celebration of love in all its infinite varieties, told through the story of a royal family that must embark on an extravagant journey to save their beloved kingdom and find love and acceptance." 
For more information about Theatre Three, call 214-871-3300 or visit Theatre3Dallas.com.