1 cup basmati rice, rinsed and soaked for 30 minutes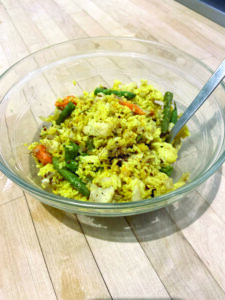 1 teaspoon kosher salt
1 large pinch saffron
1/2 teaspoon turmeric powder
1/2 teaspoon garam masala
3 tablespoons ghee 
1/2 teaspoon brown mustard seeds
1/2 teaspoon cumin
1 teaspoon fennel seeds
4 green cardamom pods
1 teaspoon cinnamon 
2 bay leaves
1 yellow onion, thinly sliced
1 tablespoon minced ginger
4 garlic cloves, thinly sliced
1 jalapeno, seeded and finely chopped
1 head cauliflower, cut into 1/2-inch florets
3 carrots, halved and thinly sliced 
8 ounces green beans, cut into 1-inch pieces
Kosher salt and freshly ground black pepper
1/2 cup golden raisins
Preheat oven to 350°F. Butter an 8″ x 8″ baking dish.
In a medium saucepan, bring 2 cups of water to a boil. Add the drained rice and season with salt. Boil until the rice is just tender but still chewy, 5 minutes. Off heat, drain well and return rice to the pot. Stir in saffron, turmeric and garam masala.
Heat ghee in a large skillet set over medium-high heat, then add the spices. Sauté until the mustard seeds pop and the spices become fragrant, 1 minute. Add the onion and sauté until translucent and beginning to caramelize, 3 minutes. Add the ginger, garlic and jalapeno and sauté until fragrant, 1 minute. Stir in cauliflower, carrots and green beans. Turn off heat and remove cardamom pods and bay leaves. Adjust seasoning with salt and pepper.
Spread half of the rice mixture onto the bottom of the buttered dish and spread the vegetable mixture evenly on top and then spread with the remaining rice. Evenly sprinkle the golden raisins on top and cover the dish with a lid or aluminum foil. Transfer the dish to the oven and bake for 20 to 25 minutes, or until rice is tender. When ready, remove from the oven and let rest, 5 minutes.