Sauce: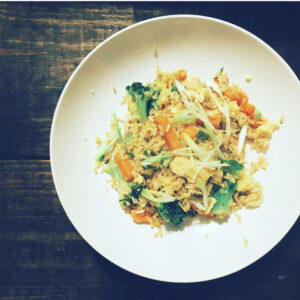 1/4 cup soy sauce
1 tablespoon unseasoned rice vinegar
1 tablespoon honey
2 teaspoon sriracha, or to taste
1/4 teaspoon toasted 
sesame oil
2 eggs, beaten
3 scallions, thinly sliced, divided
1-inch piece ginger, peeled and minced
3 cloves garlic, minced
2 cups cooked long grain white rice or brown rice, chilled
2 cups frozen stir fry 
vegetables, thawed
Salt and pepper
Vegetable oil
In a bowl, whisk together ingredients until combined. 
Heat 1/4 cup oil in a large skillet or wok until hot but not smoking. 
Add eggs and cook just until set. 
Remove and transfer to a bowl. 
Add more oil to pan if dry, then add ginger, garlic, and 2/3 of scallions. 
Cook 30 seconds and add rice, tossing to break it up and coat with oil. 
Add vegetables and cook until warmed through, about 1 minute. Make a well in the center of the pan and add sauce mixture. Cook, stirring to coat rice with sauce. Season with salt and pepper and garnish with remaining sliced scallions.