Chicken: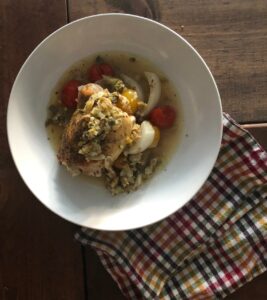 2 small onions, cut into 
6 wedges each 
1 pint cherry tomatoes
8 bone-in skin-on chicken thighs
2 tablespoons herbes de Provence
1/2 cup white wine vinegar 
Relish:
1 fennel bulb, thinly sliced
1 cup garlic-stuffed green olives, chopped
2 tablespoons capers, rinsed and chopped
Olive oil, salt and pepper 
Heat oven to 425F. In a 9 x 13-inch baking pan, combine onions and tomatoes. Drizzle with olive oil and season with salt and pepper. Arrange chicken in a single layer on top of onions and tomatoes and drizzle with olive oil. Season with salt and pepper, then sprinkle with herbes de Provence. Pour vinegar over all and transfer to oven. Line a baking sheet with parchment and arrange fennel in a single layer on it. Drizzle with oil and season with salt and pepper. Transfer to oven and roast until tender and caramelized, about 15 minutes. Chop fennel and combine it with the olives and capers. Season with pepper. 
Meanwhile, increase oven temperature to 450F and continue to roast chicken until internal temperature reaches 165F. Spoon relish over chicken to serve.