By Shari Goldstein Stern
What could be more thrilling than flying monkeys, a Granny Smith apple-colored green witch, a bubbly good girl floating in a pink bubble, a Ph.D. goat professor, an airborne house, glistening shoes and a comic of a wizard for the Dallas Summer Musicals' (DSM) first onstage performance since 2019? All elements are as unexpected as the mesmerizing sets and over-the-top costumes in "Wicked" at the Music Hall at Fair Park, with performances now through Sept 5.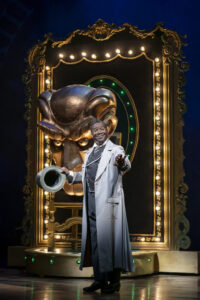 Scanning the bar code on your cellphone is a quirky, 21st century take on tickets. Little girls in witch hats are adorable, as are the joyous expressions on all of the children's faces. There's nothing quite like this theatrical joy ride on a broom.
Dallas is the first stop on "Wicked's" Broadway tour, which is also the first U.S. Broadway tour to resume performances since the COVID-19 pandemic shutdown began. 
Allison Bailey as Glinda is as perky as Talia Suskauer's Elphaba is nefarious. Both actors are polished and natural. Bailey's energetic moves, college girl theatrically bold gestures and chirping voice, in keeping with the peppiest of cheerleaders, bring down the house. A self-absorbed, quirky Bailey tosses back her blonde tresses, jumps gleefully in the air, exaggerates child-like gestures, and vocally squeaks, all demonstrating Glinda's self-absorbed character. Broadway production's Kristin Chenoweth as Glinda has an acting style like no other's, but she should watch out for Bailey upstaging her. 
To compare Suskauer's Elphaba to Broadway's Idina Menzel's isn't fair. Menzel, who earned the Tony award for best actress in a musical for "Wicked," is a natural for the role. She brings the power and extravagance in her characteristics and vocals that raise the bar for Elphabas everywhere. Suskauer's interpretation of the green witch is still plenty engaging and a treat to experience.
Regarding the brilliant sets, it is hard to take your eyes off them, from overture through the final scene. Instrumental in creating the show's dark atmosphere, the stage's proscenium arch is dressed up for suspense with a dragon's creepy eyes that move side-to-side and change colors throughout the show. Count on Glinda's floating bubble to be surprising and eye-catching. 
One patron mentioned, "The onstage machinery that operates all of the moving parts is not just genius but fascinating to follow." There is scenic designer Eugene Lee to credit for his imaginative sets. Lee won a Drama Desk award for set design of a musical.
Stephen Schwartz was a nominee for 2004's Drama Desk award for Outstanding music for the "Wicked" score. Schwartz has earned accolades throughout the years for his music and lyrics for shows like "Godspell," "Pippin" and "The Baker's Wife," to name a few. He collaborated with Alan Menken on Disney hits like "Pocahontas" and "The Hunchback of Notre Dame."
It's not surprising that Susan Hilferty earned the 2004 Drama Desk award for costume design, and continues to be credited for one of the most surprising, even shocking, colorful wardrobes in theater. Corinne McFadden Herrera's choreography and James Lynn Abbott's dance arrangements defy gravity. The acrobatics woven through dance numbers are spectacular in themselves.
A few popular, local musicians join the exceptional traveling orchestra, including Randy Lee, Clayton Williams, Jim Pritchard, Rob Parton and Eric Swanson. Also performing with the show's touring orchestra are Brian Brown, Jeff Lankov, Brian Piper, Carl Hillman, Pete Aan and John V. Osborne.
"Wicked," will continue its DSM run through Sept 5. Older kids simply must take their parents to see the show. Younger children might be a little spooked by scary, glowing eyed dragons and wicked witches who look like humans but have yukky green skin. But this really is designed to be a family adventure.
A dear friend often quotes his favorite lyrics from "Wicked:" "Because I knew you, I have been changed for good." Patrons may feel the same about their return to Oz.