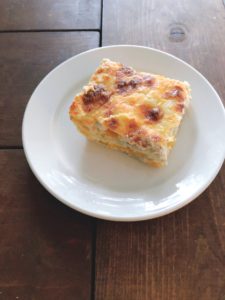 1 large butternut squash (about 3 pounds), peeled, seeded and cut into 1/4-in.-thick slices
2 fennel bulbs, thinly sliced
1 stick unsalted butter
1/2 cup all-purpose flour
2 cloves garlic, finely chopped
8 med. leaves sage, finely chopped
5 cups milk
1 cup shredded grated Parmesan cheese
12 no-boil lasagna noodles
2 c. shredded Mozzarella cheese
Preheat oven to 450F. Grease 9×13-inch baking pan; set aside. Line 2 baking sheets with parchment. Toss squash with oil and arrange squash in single layer on prepared baking sheets. Repeat with fennel. Season both generously with salt and pepper. Roast 20 minutes or until tender. (This can be done the day before.) Reduce heat to 400F.
In medium saucepan, heat butter over medium 6 to 8 minutes, swirling often, until browned with a nutty aroma. Add garlic and sage, then whisk in flour. Whisk in milk until smooth. Simmer 5 minutes or until thickened, stirring. Stir in 1/4 cup Parmesan and 3/4 teaspoon salt. Remove from heat.
Spread1/3 of cream sauce on bottom of prepared baking pan. Arrange 3 or 4 noodles in single layer, breaking to fit if necessary. Top with half of fennel, then half of squash. Spread 1/3 of cream sauce over squash, then top with half of Parmesan and half of mozzarella. Repeat layering. Bake 40 minutes or until top is golden and pasta is tender. Let stand at least 15 minutes before serving.