From WRMC Staff Reports
White Rock Medical Center (WRMC) is proud to announce Molly Foster, RN, director of women's services, has been honored with a 2023 Excellence in Nursing Award by D Magazine.
Foster was recognized in the category of nursing leaders. These annual awards honor Dallas area nurses who are nominated by peer nurses and healthcare professionals. An article honoring these healthcare heroes was published in a recent issue of the magazine.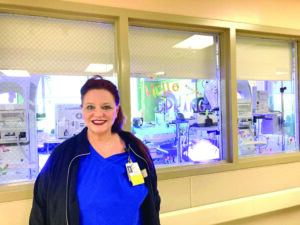 "Our mothers, babies, nurses and staff are so lucky to experience the compassionate care and expertise Molly extends each and every day," said Melanie Flinn, vice president for operations at WRMC. "Molly exhibits everything you envision when thinking about what a nurse and nurse leader should be."
As the third child of seven, Foster loved to help care for her infant siblings. At 13 years old, she remembers visiting the hospital when her youngest sister was born and peering at her through the nursery window.
But what also caught her attention were the nurses caring for her sister. 
"I knew that was what I wanted to do," Foster recalled.
Foster's entire career encompasses different roles in patient care — but all within maternity services. She joined the hospital that is now White Rock Medical Center in 1986 with the grand opening of what was then the brand-new labor and delivery unit.
Throughout the years she took on more leadership roles and now serves as director of women's services at White Rock Medical Center. 
In addition to leading women's services, she coordinates the DAISY award program honoring exceptional nurses at WRMC. She is a neonatal resuscitation instructor and is chair of the hospital's Nursing Peer Review Committee.
"Babies are precious, especially to their families. I want our patients to receive the highest quality of care and have a great experience," Foster said.
If she's not in her office, you will probably find her spending time with her mothers and babies.