By Nancy Black
I knew it wouldn't be easy, but I had no idea how hard it turned out to be. 
In hopes of creating beautiful Christmas scrapbooks as presents for my children, I dove into the task of sorting three huge boxes of old photographs, which had been stored away in my garage for years. I'm writing about real photographs with negatives and double prints. Some boxes even had slides in them! I bet if I showed a slide to a millennial, they wouldn't know what it was for except for the fact that it was tiny little picture.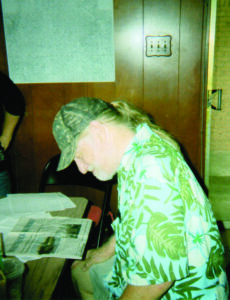 The task of going through mounds and mounds of memories was difficult. Not only because it took tons of time; I was making stacks of photos for each child and both my siblings (and was still working on them as I wrote this editorial). But also, because the endeavor brought up a flood of emotions seeing our lifetimes through pictures. 
Some of the people in the photos are no longer with us. Seeing their smiles and the good times we had filled my heart with bittersweet joy. My mother, my aunt, my brother, my daughter's father. The list goes on. But, boy, did we have fun while they were here. We had bad times, too, but we didn't often take pictures of those life events.
One fun photo I ran across was of my business partner, Andy Simpson, seeing the front page of the very first issue of White Rock Lake Weekly after it was delivered to us. The pure joy in his face in realizing his dream of creating a community newspaper dedicated to East Dallas had come true was a delight to see. 
That was 14 years ago! I know. Can you believe it's been that long? We can't. But we are thrilled to still be in the business of bringing you, our devoted readers, scrapbook-worthy pictures and stories each week about YOU. We wouldn't exist if you all weren't such enthusiastic and dedicated community members. Your altruistic efforts, interesting endeavors and love of all things White Rock Lake fill the pages of this newspaper each week. Without the community, we are nothing. The same goes for our small businesses. So, this holiday season, shop (and read) local. Make some memories. And don't forget to give thanks for digital cameras. They make compiling photo albums a lot easier these days! God bless Shutterfly.