By Alejandra Ortiz
White Rock Rowing (WRR), the only Dallas rowing club to hold multiple national youth championship trophies (2014, 2021), made history once more at the 2023 USRowing National Youth Championships at Nathan Benderson Park in Sarasota, Fla. It is the first crew in the entire Central Region of rowing to ever place multiple Men's 8 boats in the grand finals, which are widely considered the fastest and most competitive of all race events. The Men's U16 8+ placed sixth in the nation, and the Men's U17 8+ placed seventh.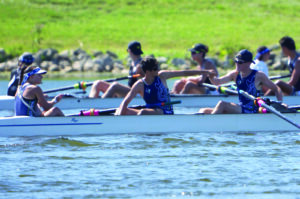 After qualifying a record number of 59 athletes for Nationals, 36 of them placed in Top 10 boats for the nation, including the Men's U16 8+, Men's U17 8+, Women's U16 8+ and Women's U17 8+.
White Rock Rowing's historical performance in the 8-person boat category marked a first for the Central Region of rowing, which consists of crews from Arkansas, Colorado, Kansas, Louisiana, Missouri, Nebraska, New Mexico, Oklahoma and Texas. It's also a record for the city of Dallas, which is increasingly becoming a competitor to crews from the rowing-centric northeast and northwest.
"All season long our athletes have had unwavering dedication to represent Dallas on a national level. We couldn't be prouder of their hard work and discipline. The coaches have set an excellent example of what leadership looks like on and off the water. So let it be known — Dallas is here to compete for the biggest races in rowing, and White Rock Rowing athletes will be some of the fiercest competitors on the water," said Sue Ellen Chambers, president of White Rock Boathouse, Inc., the nonprofit that manages White Rock Rowing.
More than 220 junior crews took to the 2K racecourse during nationals from June 8-11. For a complete list of the White Rock Rowing race results, visit whiterockrowing.org.