By Juliette Coulter
Grant Halliburton Foundation celebrated the launch of its inaugural Young Professionals organization, or GHP YP, with a council announcement and networking event on August 25. Hosted at the Foundation's new office at Pegasus Park, GHF YP members enjoyed refreshments and networked with fellow group members. Following the announcement of the 2022-23 GHF YP Leadership Council, members toured the new office and viewed the gallery of artwork by Grant Halliburton.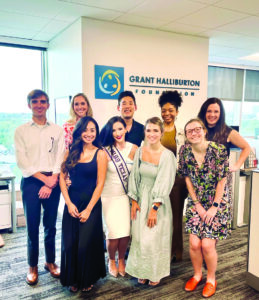 The Grant Halliburton Foundation Young Professionals organization is a personal and professional development organization for DFW-area young professionals in their 20s and 30s seeking to positively impact their community. GHF YP is a home for the next generation of philanthropists to learn and grow while also supporting the organization's work to advocate for stronger mental health education and suicide prevention in North Texas. 
President Kelsey Cameron remarked, "This is the moment for our generation to really make an impact in mental health and to help each other. The ability to interact in person is especially important for mental health, so we hope to foster connections through our variety of events and opportunities."
This remarkable organization offers young professionals the opportunity to support their community while networking, attending social events and professional development seminars, sharing their talents through volunteer opportunities and receiving special sponsorship rates at Grant Halliburton fundraising events. Dues range from $25 to $500 annually. For more information or to join GHF YP, visit granthalliburton.org/ghf-yp.