By Sara Newberry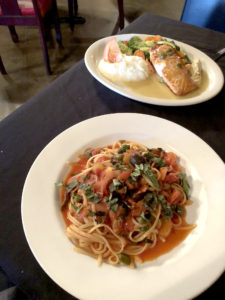 I only ate at La Parrillada, the previous tenant in the space on Gaston that now houses Andrea's, once. It was fine, average, nothing really memorable good or bad. Andrea's has changed up the interior slightly and, obviously, has a completely different menu, but the feel is the same in that there's nothing really wrong there, but there's also nothing really great either. The word that keeps coming to mind is "generic;" I kept feeling like if I closed my eyes I would have no idea where I was eating.
Starters tend toward the usual: fried calamari, fried mozzarella sticks, prosciutto with mozzarella. We tried the calamari and it was excellent, with crisp coating and tender squid. Marinara on the side tasted fresh. Salads are also familiar; we had the Caesar and the mozzarella tomato salad. The Caesar was fine; I'm pretty sure the dressing came from a bottle. The tomato-mozzarella salad was disappointing in that the tomatoes — ostensibly the co-star with the cheese — were pale and mealy, without any flavor. It's not ideal at any time of year, but it's especially egregious during tomato season. 
Pastas are mostly popular options; there's a bolognese, a puttanesca an arrabiata. The ones we tried were generally well seasoned and well cooked. A spinach ravioli theoretically was served in a creamy lobster sauce; mine had no lobster. The ravioli themselves were a little heavy, but that's not unusual. (I wanted the namesake gnocchi, but was told the kitchen was out of gnocchi. I guess it's not made in-house.) Pasta Puttanesca was a lovely surprise, with complex flavors coming from the mix of ingredients. It's easy for this sauce to veer into saltiness, but it didn't here. 
Entrees also lean toward the familiar, with Eggplant, Veal and Chicken Parmesans, and Veal and Chicken Marsala and Picatta. Chicken Parmesan was fried crisp and sauced with more of the same marinara that arrived with the calamari, and the chicken itself was tender and flavorful. A side of spaghetti was al dente and tossed with just enough sauce to coat it. Grilled salmon was flaky but moist, and its white wine lemon-butter sauce was tangy and rich. Sides of mashed potatoes and standard Italian-restaurant mixed vegetables (zucchini, broccoli, carrots) were fine. (There was one of those terrible tomatoes jammed into the potatoes as garnish. Parsley would have been a better choice.) 
Desserts, again, are standard. You'll find cheesecake, a chocolate cake and tiramisu. (We tried to order cannoli, but they were out — guessing they're not making those in-house either.) The tiramisu was generic and is served with a tiny puddle of raspberry sauce.
Service is friendly but inconsistent. On both visits our server disappeared from the dining room for extended periods. We had to flag someone down for refills on drinks or to get a check.
Andrea's is notable for being an East Dallas Italian restaurant that doesn't offer pizza of any sort. I'm not saying this is good or bad, but it is a factor that sets it apart. Other than that, I'd be hard-pressed to find anything else that differentiates from other neighborhood Italian spots. 
Andrea's Italian
7260 Gaston Ave
214-321-8400
andreasitalian.com
Monday – Thursday 11 a.m.- 2 p.m., 5-9:30 p.m. 
Friday/Saturday 5-9:30 p.m.
Sunday 11 a.m.-9 p.m.