EARTHX CELEBRATES HALF-EARTH DAY
By Lindsey Lyons
Earthx2018, the largest Earth Day celebration in the world, will mark Half-Earth Day on Oct. 22 from 6:30- 9:30 p.m. with a screening of the film "Charged: The Eduardo Garcia Story," featuring its star, Chef Eduardo Garcia (pictured at right). The inaugural Dallas commemoration of Half-Earth Day will also include a question and answer session and Taco Throwdown with Chef Garcia himself. 
The Half-Earth Project is an initiative of the E.O. Wilson Biodiversity Foundation to commit half of the planet's surface to nature. If we as global citizens conserve half the Earth's lands and seas, then we can reverse the species extinction crisis and ensure the long-term health of our planet. Driving research and providing leadership to guide conservation efforts, The Half-Earth Project engages people to participate broadly in the goal to conserve Half-Earth. 
"Charged," which premiered in Dallas at EarthxFilm in 2018, chronicles Chef Garcia's recovery from being jolted by 2,400 volts of electricity after prodding a dead bear in 2011. The incident nearly killed Chef Garcia, already a celebrated chef at the time, and led to a painstaking recovery during which doctors were forced to remove his arm, and his body was left with significant permanent injuries.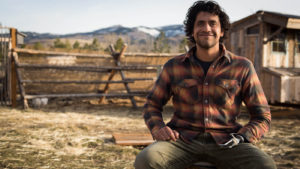 "One of our primary aims with EarthX is to bring the left and the right together in the name of the environment," said Trammell S. Crow, founder of EarthX. "To this end, we're honored to celebrate Half-Earth Day 2018 by sharing an environmental voice like Chef Garcia's, which entwines a love for the outdoors through activities like hunting with a passion for preserving nature's delicate balance. Sharing what that means with the up-close-and-personal experience of his harrowing encounter is the perfect way to 'keep Earth Day in our hearts the year through' during this Half-Earth Day."
Now known as the "bionic chef," Chef Garcia has maintained an intimate relationship with nature to help him cope with the rehabilitation of his physical and emotional injuries — both in the kitchen and in the backcountry. The extent of Chef Garcia's recovery in the kitchen will be showcased in Dallas before the film with a question and answer session and Taco Throwdown, which will be offered free of charge to the first hundred Half-Earth Day patrons who are watching the film. The event will also provide free boxed water to all, because, after all, it is EarthX. Visit EarthX.org to reserve your spot.