By Sujata Dand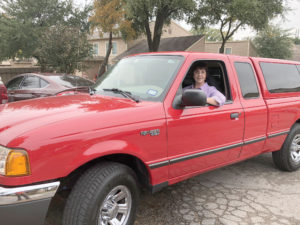 "A man was fished out of this creek," Vikki Martin remembers as she drives her red pick-up truck down Peavy Road. "It was 3 o'clock and all of the school kids watched. That's wrong. I have a problem living in a neighborhood like that."
Things like that don't really happen anymore in Martin's far east Dallas neighborhood, and that's largely because of the Ferguson Road Initiative (FRI).
FRI represents wealthy neighborhoods near White Rock Lake as well as adjoining areas with middle to low-income single-family homes and more than 60 apartment complexes.
During the last 20 years, FRI is credited with reducing overall crime in the area by 40 percent and violent crime by 60 percent. More importantly, the non-profit organization has empowered residents to build a community that they are proud to live in.
"No one was going to help us," Martin explains. She is the founder and executive director of FRI. "There wasn't anybody that was like 'we are going to save you people.' We had to scream about it and that's what we do well."
And, it all started because Martin's bike was stolen from her garage.
"It just pissed me off that I left my garage door open, and when I came back home it was gone."
Martin says that pushed her to assemble her neighbors and create a crime watch program.
"We discovered that the community had been neglected for decades," Martin says. "We had a neighborhood meeting and one of my favorite people let me know that they were going to leave before it was too late. They moved to Plano, and I didn't want to do that."
Martin's middle-class neighborhood was just a few miles away from "Two Points," a derogatory nickname Dallas police had given the intersection of N. Buckner Blvd. and Peavy Road.
"That was one of the highest crime areas in the nation," Martin (pictured at right) says. "The folks said we hate that name and we are going to rebrand as White Rock East."
Martin, a retired school teacher, did something completely out of her comfort zone. She applied for a federal Weed and Seed grant for White Rock Hills.
With help from her then Congressman Pete Sessions and city council member Leo Chaney, FRI was awarded two million dollars over 10 years. Half of that money was spent on law enforcement.
"Once you start addressing the crime and getting serious about code violations and really getting rid of the bad stuff, economic development is going to follow," she says.
FRI has grown from five to 37 neighborhood associations and crime watch groups.
Martin drives through the neighborhoods in White Rock Hills showing off all of the changes in the area. The White Rock Hills Uplift Charter School is one of her proudest accomplishments.
"This used to be a Howard Johnson's motel and then it turned into a pay by the hour place. It was so bad. So bad," she says emphatically. "Finally, the city demolished it after a man was murdered for his wheel rims. For a decade it just sat there with weeds and trash on it. For me, the Uplift School is the weed and seed story. It got rid of the bad. It got rid of the weeds. And, now you have this wonderful school."
The City of Dallas's planning and zoning committee requires developers to have community support for their plans. So, FRI is involved in almost all major projects in the area.
Throughout the last two decades, Martin says there has been more than 250 million dollars of high income and affordable housing as well as retail investment in White Rock East and White Rock Hills.
"One of the things that we feel really strongly about is that mixed incomes make a really interesting neighborhood," Martin says.
As she continues to drive down Ferguson Road, Martin points out Lone Star Credit Union and other businesses that are now part of FRI.
After the grant money ran out in 2011, the federally funded organization transitioned to a membership driven self-supported institution. Martin says it's the community that keeps FRI funded.
"It's all about building relationships in the communities and understanding resources," Martin explains. "They are there but you just have to find them."
FRI also has a successful working relationship with the city. Since 1998, FRI's Bond Committee has successfully secured more than $38 million dollars in bond programs. These funds have improved streets, bridges and parks as well as created neighborhood amenities like the $8.5 million-dollar White Rock Hills Branch Library.
Maria Valenzuela runs the Volunteer Income Tax Assistance program for FRI and she's also one of Martin's neighbors.
"If Vikki hadn't started FRI 20 years ago, I don't know that I would have stayed in this neighborhood," Valenzuela says. "Not only am I enjoying living in this neighborhood, but my property values are up, so that's a win-win situation."
FRI's next big project is to build the White Rock Hills Community Recreation Center. Phase 1 of this project is a park, which will break ground in December.
Despite these successes, FRI is still facing big challenges. White Rock Hills East is a USDA certified food desert. The last grocery store in the area closed a few months ago.
"We need to address the needs of our senior citizens," Martin says. "We have seniors that are isolated. They don't use the computer. There are people who don't have transportation. We are really concerned."
There's no doubt those concerns will turn into action. Colleagues say Martin's tenacity and gift for building alliances transcends politics.
"You take away the politics and we are just a group of people that care about our community," Martin says. She's not one to ask whether or not the job will get done. "We always just work together. It's always how do we get the job done?"
FRI is celebrating its 20th anniversary with a breakfast on Saturday morning for members and sponsors.