By Elizabeth Lenart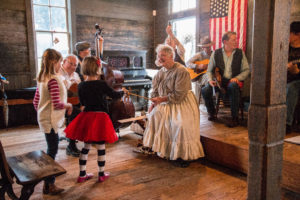 Make your holidays historic at Dallas Heritage Village's 47th Annual Candlelight on Dec. 8 and 9 from 3-9 p.m. at 1515 South Harwood in Dallas. See how holiday traditions were celebrated in the late 1800s at the Village's largest public fundraiser, featuring carriage rides, holiday storytelling, Victorian carolers, musical entertainment on three stages, crafts, St. Nicholas, hand-weaving, blacksmithing and many other festive activities such as the American Flyer model train exhibit in the Depot.
"Candlelight creates a magical experience for attendees of all ages," said Melissa Prycer, president and executive director, Dallas Heritage Village. "Guests enjoy this annual event's unhurried pace as they stroll the paths — lit with more than 600 flickering candles – making stops along the way to explore, eat or enjoy the entertainment. Carriage rides provide another view with the modern Dallas skyline as a unique contrast in the background."
During Candlelight, pioneer and Victorian Texas is brought to life with costumed interpreters.
At the 1860s Farmstead, attendees see how early Dallas pioneers enjoyed a modest Christmas as the country approached the Civil War.
At the roaring bonfire, cowboys tell tales, and at the Alamo Saloon, root beer and games of dominoes are available. The candlelit paths provide a perfect opportunity to take a stroll and tour the historic structures. At the Depot, kids tell St. Nicholas their Christmas wishes and see the American Flyer model train exhibit.
Village Donkeys Nip and Tuck will be posing for pictures, and Mammoth Jack donkey team Willie and Waylon will offer guests carriage rides on the candlelit paths ($5). Hayrides, pulled by a vintage tractor, are also available ($3 per rider).
Local musicians, dancers, bands, choirs, and storytellers will entertain at the Renner School (circa 1888), on the Main Street (circa 1900) stage, in the Pilot Grove Church (circa 1890).
Festive foods will be available for purchase from food trucks as well as a bake sale, traditional kettle korn, nuts and more.
"This event is a perfect opportunity to see and experience history while making cherished holiday memories," added Prycer.
"With beautiful candlelit paths and activities across 20 acres, Candlelight offers a holiday experience like no other."
All proceeds benefit museum programs at Dallas Heritage Village. Visit dallasheritagevillage.org/candlelight for more details or call 214-421-5141. Self-parking is available for free.