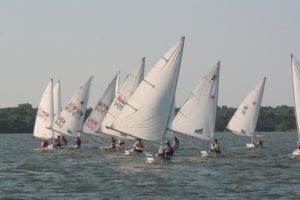 By Greta Mittman
It is finally springtime and a great time to be around White Rock Lake. Part of what makes being at the lake so special is the obvious labor of love put in by so many people and organizations.
The Corinthian Sailing Club is having its annual fundraising regatta and dinner party to celebrate an organization that has been working to enhance the park for more than a decade.
White Rock Lake Conservancy is the beneficiary of this year's festivities honoring their commitment to the preservation of White Rock Lake Park. The White Rock Lake Conservancy has been engaged in beautification and safety projects around the lake since 2007.
The Commodore's Cup Regatta is scheduled for April 21-22 and has been an ongoing fundraiser for various causes throughout the years. The regatta brings out different fleets including Flying Scots, Lasers, Corinthians, Snipes and Butterflies. During the day on Saturday, spectators are invited to enjoy lunch and have the opportunity to watch a race from on the water. Available timeslots for on-the-water spectating are 11 a.m. and 1 p.m. Tickets are $15 and are available online.
After the races on Saturday, from 6-9:30 p.m., the fun moves on shore for a dinner, a live auction and live music from the Blondettes.
A limited number of tickets are still available for those interested in attending that evening. Tickets are $25 and are also available on line.
The Corinthian Sailing Club invites the community to come out and support the White Rock Lake Conservancy and have a great time doing it.
The CSC is located at 441 E. Lawther Rd. just south of the Big Thicket.
Tickets for the regatta's Saturday evening dinner and fundraiser are limited to 125 and may be purchased at corinthiansailingclub.wildapricot.org/event-2838519.