HIGHLAND PARK PHARMACY
By Yani Blackburn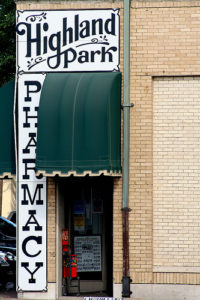 As soon as the door opens to Highland Park Soda Fountain, one is immersed in the small-town and down-to-earth atmosphere, and then hit by a strong smell of French fries and grilled cheese. This one experience is difficult to find anywhere else in downtown Dallas. Was difficult. Because now it is gone.
"The shop is three times as busy as it usually is," Assistant Manager Robert Terry said during the final week of the operation. With such a limited amount of time left, people were scrambling to stop by and get their last, or first, bites of the classic homestyle grilled cheese. 
Along the left wall, there are shelves lined with a variety of items for sale — from Halloween-themed trinkets to lotions to jewelry — one could easily spend an hour just looking at all the knickknacks and will probably want to take one home to remember the 106-year-running soda pop shop before it closes its doors in less than a week. 
On the other side, there is a counter with stools fastened to the ground where customers are ordering classic homestyle meals. 
Toward the back, there is another counter where customers can go order snow cones and buy deodorant at the same time. This area used to be home to a pharmacy. 
A few decades ago, this building on Knox Street was known as Highland Park Pharmacy — a place where people could go pick up their medicine and grab a bite to eat at the same time. 
Today, it stays true to its original concept by continuing to sell deodorant and toothpaste, but now they have a snow cone machine and syrup behind the counter instead of prescription drugs and a pharmacist. 
The tables and stools at the counter are filling up so quickly, it's almost hard to find an open table. 
Almost.
"People are so friendly, you can sit with another group of people if there are no open tables and it's okay," Nancy Black, loyal customer of 54 years, said. 
J Pellegrine, another customer, agreed. When he walked in today, Pellegrine found an empty table. Suddenly, a group of senior citizens he had never met came up and asked if they could join him, since there were no other available tables. 
"I told them 'of course!' and it turns out we all ended up ordering the same thing," Pellegrine recalls, giggling at the thought of the coincidence. 
Pellegrine has been eating here for two decades and ordering the same thing every single time: a Palm Beach sandwich and Fritos. Today, in honor of the closing, he chose to be adventurous and try the chocolate shake. "It was excellent." 
"Growing up, a lot of places had counter service just like they do here," Pellegrine recalled. "It was convenient, so you could eat right after you shop."
Highland Park Soda Fountain holds memories for people across generations. Some customers have been coming regularly for more than 70 years and still have vivid memories of the place, ranging from hanging out with friends in high school to bringing their grandkids.
Customers and employees alike are saddened by the closure of such an iconic part of the Dallas community. Highland Park Pharmacy, and later HP Soda Fountain, provided a comforting sense of nostalgia that not many other places had.
Highland Park Soda Fountain closed on Sept. 8 to make way for a 12-story office building on Knox Street. It is clear that this establishment has countless stories and memories made inside its four walls, and that will continue to live on. Members of the Dallas community will mourn its loss as this 106-year-old icon. 
Black looks around the shop one more time before she gets up to go.
"No one came here for the food. It was for the environment," she said.