By Shari Goldstein Stern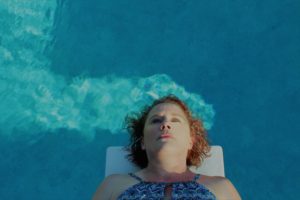 Who has ever, while perched on a high diving board, trembling with fear, and with a knot in your stomach, wished no one would see you if turned around and retreated back down to the safety of your beach towel down below? For White Rock and East Dallasites, maybe you were at the legendary Harry Stone Recreation Center when it hit you that you were doomed. It's scary to take that risk, and it's so comforting to take a deep breath when the fear passes and it's over.
That's the theme of "High Dive." It's about making choices and taking risks head-on. The one-woman show, which opened last week at the Bath House Cultural Center at White Rock Lake, and will run through February 23, is a unique, interactive form of theater. Patrons who sign up 30 minutes prior to the show can volunteer to participate by reading an assigned, scripted role from the secure, risk-free comfort of their seat. 
Kristin McCollum as Leslie has the stage to herself for more than an hour, which to some might be terrifying. She rises to the death-defying occasion with a natural grace when talking to the audience about her laugh-filled story. She is an American woman in Greece celebrating her 50th birthday. Although terrified of heights, she accepts her son's dare to jump off the high dive. She finds herself paralyzed with thoughts of all the choices she's made in life and what might have been.
The actress is known by area audiences for performances at Kitchen Dog Theater, WaterTower Theater, Theatre Three and Second Thought Theatre. In Echo's earlier productions, she has appeared in "Gulf View Drive" and "String of Pearls," among others.
According to director Pam Myers-Morgan: "Directing this piece and working with Kristin was a delightful journey of discovery. And the biggest revelation had to do with the 'music' of the show, the rhythm of the dialogue." Not to be confused, this is a play, not a musical.
Myers-Morgan added that McCollum is a massively gifted actress, comedian and technician. "Her background in improv has been invaluable, allowing her to interact with the audience as true scene partners," she said. 
Myers-Morgan also has an impressive cache of experience as a director, sound designer and actress. She has directed for Dallas Theater Center, Echo Theatre, El Centro College, Dallas Children's Theatre, WingSpan and others. She has directed local shows including "Ruined" and "Her Song." 
"High Dive's" playwright Leslie Ayvazian has written eight full-length plays and seven one-act plays. Her short film, "Every Three Minutes" starring Olympia Dukakis, was produced by Showtime and won a Telly Award. Another appearance by Dukakis was in Ayvazian's short film, "The Favor," also featuring Margaret Colin and John Pancow. Her play, "Deaf Day" was produced as a short film in India and was included in the 2012 Palm Springs International Short Film Festival.
Despite this being a one-woman show, there is one character who sits in the audience among the non-professional volunteer actors. It's Leslie's son, played by Lily McCollum. According to the young actress, she is often cast as a little boy. Until you check your program, you probably think that the volunteer reading the son's part is one of the volunteers who is very good at this assignment. That would be because McCollum, a member of the Danceology Studios, is a sophomore in the Theater Conservatory at Booker T. Washington High School for the Visual and Performing Arts. Her acting credits include shows at Theatre Three, Echo Theatre, Dallas Children's Theater, Junior Players, Upstart Theatre, and Pocket Sandwich Theatre.
"What I hope audience members take away from this experience is a greater connection with the true essence of theatre, which at its core is the simple act of telling and receiving stories," Myers-Morgan said. "'High Dive' is storytelling, providing a funny, moving, profound journey to self-realization, for the main character and hopefully for the audience as well," the director concluded.
"High Dive" continues through Feb. 23 at the Bath House Cultural Center, 521 E. Lawther Drive on the eastern shore of White Rock Lake. Show times are 8 p.m. Friday and Saturday evenings. 
There will be two Saturday matinees on Feb. 16 and 23 at 2 p.m. Order tickets online at echotheatre.org.