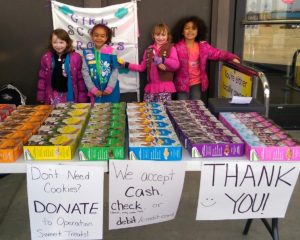 Monster Yogurt is gearing up for Girl Scout cookie season, Jan. 11 – Feb. 24 at all locations including Dallas at 9540 Garland Rd. in Suite 394. Local Girl Scout troops are encouraged to book their time at Monster Yogurt locations to sell their delectable wares, all the while building character, learning to work as a team and becoming the leaders of tomorrow. Many former scouts say their experience selling was a critical first step on a path to success in their life and career.
In addition, customers can top their yogurt treats with Girl Scout cookies of their choice during the season. According to the local Girl Scout chapter, when you buy Girl Scout cookies, you become part of the largest girl-led entrepreneurial program for girls in the world and the proceeds stay local. 
Ava Skipworth, Monster Yogurt founder, said: "Igniting the entrepreneurial spirit is what it's all about. 
I love finding ways to empower young people. When I started Monster Yogurt, the main idea was to design a brand that could enrich my community." 
Skipworth added, "Giving back is what it's all about and the joy is in empowering young people of all ages and backgrounds."  
Girl Scouts list goal setting, decision making, money management, people skills and business ethics among the lessons gleaned by young girls who sell cookies this time of year. Skipworth and Monster Yogurt aim to be a part of these life-lessons in the formative period of a child's life. 
Monster Yogurt is also offering help from a female entrepreneur to win a badge by emailing Skipworth herself at ava@scarytastesgood.com. 
Interested troops can visit scarytastesgood.com and should contact Skipworth for more information on getting set up in such a "sweet" situation to sell at a Monster Yogurt location of their choice.