Lake lovers unite for future generations
By Deborah Finger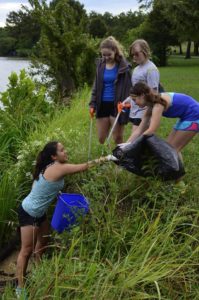 North Texas Giving Day is turning 10 years old, and there is a lot to celebrate, including the many White Rock Lake area nonprofits. One of these nonprofits, For the Love of the Lake (FTLOTL), is participating for its fifth year. 
Since 1996, FTLOTL has been dedicated to the care and enhancement of White Rock Lake Park as an urban oasis located in the heart of the City of Dallas. Our focus is on supporting programs to preserve and enhance the park by organizing regular clean up activities, funding tree planting events, and raising money needed to fund improvements to White Rock Lake Park.
FTLOTL organizes events on the Second Saturday of each month to pick up litter that has accumulated around the park. We provide all the supplies, and your donations help us do even more — from sponsoring beautification projects to purchasing spruce-up supplies, your financial support is invaluable to the work we do. Our Adopt-A-Shoreline program is perfect for the civic minded business, non-profit group, school, church or local organization. AAS groups adopt a small portion of the shoreline or park and keep it litter free. FTLOTL also supports the Texas Stream Team, a network of trained volunteers (Citizen Scientists) who gather information about the quality of Texas water resources and ensure that information is available to the public.
It is our goal at For the Love of the Lake to engage the community in maintaining White Rock Lake Park for the enjoyment of future generations. We are expanding our programs with a focus on the four Rs (Reduce, Reuse, Recycle, and ROT)! We provide learning opportunities for individuals and businesses, helping them incorporate these concepts into their daily activities. FTLOTL is also exploring opportunities for replacing the aging recycling containers at the park, improving the retaining devices for tributaries that feed into White Rock Lake, and continuing to increase hands-on opportunities like our flagship Shoreline Spruce Up and Adopt-A-Shoreline programs. Each of these elements will help us maintain White Rock Lake for children, pets and wildlife now and into the future.
For the Love of the Lake is currently seeking volunteers to help with marketing our programs through social media and email campaigns, and seeking tech-savvy volunteers to help maintain our website.
All donations go further on North Texas Giving Day because donations up to $10,000 made between Sept. 10 and 20 on the North Texas Giving Day website (NorthTexasGivingDay.org) are amplified by bonus funds and prizes.
The 10-day run-up culminates in the main attraction, North Texas Giving Day, on Sept. 20, which is highlighted by an avalanche of online donations from 6 a.m. to midnight. So get up and give to For the Love of the Lake on Sept. 20 at northtexasgivingday.org/for-the-love-of-the-lake-white-rock-lake-park.