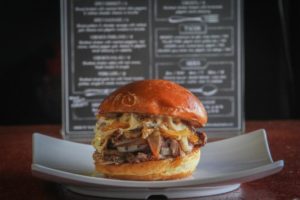 By Ariana Hajibashi
It's been four years since One90 Smoked Meats opened its storefront on Northwest Highway in East Dallas. Since then, the enterprising team of local meat aficionados has been serving customers a variety of delicious meats, sandwiches and sides at its shop and catering events around town. Now, the company is proud to announce that it's opening a new location at the Lakeridge development in Lake Highlands. 
Located at the southeast corner of Audelia Road and Walnut Hill, Lakeridge is a quickly growing home base for restaurants and retail. It currently houses the charming French bistro, RM 12:20, and will soon welcome other high-profile inhabitants like the Standard Pour, Vector Brewing and Taco Joint. 
When One90 opens the doors to its Lakeridge restaurant, guests will find a drastically different space than the original. With 2,883 square feet to work with, it will feature a bar, plenty of seating, a larger kitchen and a market for take-home goods. 
The menu will feature the same customer favorites from the original location, including brisket, pulled pork, sausages, steaks and sandwiches, plus sides like potato salad, cole slaw and mac and cheese.
"Since opening in 2015, we've been fortunate to be embraced by the city," said owner Kyle St. Clair. "Soon, with our new location and larger space, we'll be able to offer a dine-in experience to our loyal customers and newcomers alike, while continuing to serve the foods that our guests love. We can't wait to open the doors and show everyone what we've been working on." 
One90 is slated to open its new location in 2020. For more information, visit one90smokedmeats.com.