By Shari Goldstein Stern
Just as life imitates art, theater imitates television in Kurt Kleinman's "Prime Time for Murder," the playwright's 21st "Living in Black and White" adventure. Kleinman, artistic director and founder of Pegasus Theatre with his wife Barbara Weinberger, present Kleinmann's 44th season opener, which will run through January 16 at the Charles W. Eisemann Center in Richardson.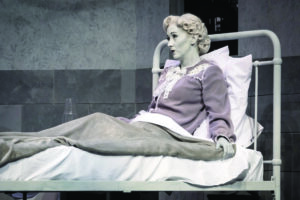 After the show previews Dec. 29 and 30, it will open Dec. 31. In the tradition of New Year's Eve performances past, the play will be followed by a reception in the lobby to toast in 2022 with cake, champagne, crazy New Year's party hats, favors and photos with the cast in which only patrons will be in color.
The play takes place in a television studio where the program, "Mystery Theater" is broadcast live. 
It's 1950 and television is an unexpected. Returning characters Harry, Nigel and Lt. Foster are hitting the small screen, but when the television show goes live, someone ends up dead. The question becomes, "Will the trio solve the murder before their feed gets cut?" 
Portraying Beverly "Bubbles" Foster is Dallas actress Leslie Patrick, who has appeared in 19 of the "Living in Black and White" installments since she joined Pegasus Theatre in 1999. 
Kleinman said: "Leslie is a theatre professional who takes her job seriously, which makes this next story even funnier! In 'A Critical Case of Murder' Leslie was on stage threatening to kill someone when she realized the gun that was supposed to be in her purse was not there. So she said 'I'm going to kill you with this purse!'" 
"I was off-stage when I heard her line, realized what had happened, and walked on stage to hand her the gun," Kleinman continued. 'Here, I said, if you're going to kill someone, do it right.' The audience and the cast got a big kick out of it. But to make sure Leslie never forgot the incident, I created a villain years later in 'A Minor Case of Murder!' who actually did kill people with a 'purse gun.'"
Patrick has appeared on Theatre Three's stage in "Medicine, Man" and in Uptown Players' "Die Mommie! Die!" among many others. Recently she rocked as Maud Wood Park in Echo Theatre Company's "It's my Party" at the Bath House Cultural Center. She studied theatre and acting at KD Studio after completing a degree in theatre at Angelo State University.
The actress has had many other production roles besides acting, including stage managing for Pegasus Theatre, Theatre Britain, Echo Theatre and Act 1 Productions. She has done prop design for Echo and Act 1 and has been on the crew for Pegasus, Classical Acting Company and in the national tour of 'CATS.'"
The native Texan said, "Learning to do the makeup for this show style was definitely one of the best things to ever happen to me and I am forever grateful to my friend Aaron Friedman for making me come to that first audition."
The seasoned actress added: "I love working with Kurt. His passion for the work is inspiring. He comes to a lot of the rehearsals to listen to the dialogue and is quick to rewrite if something doesn't sound quite right to him or an actor is struggling with a line."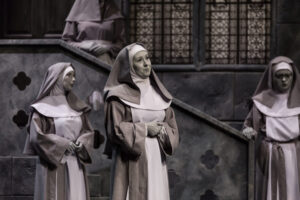 "This is rare for a playwright," she added. "I've always appreciated Kurt's openness to change when it comes to being able to tell the story. As an actor, he's a lot of fun and is always ready to play or help you get back on track if you lose your way, or run off stage to get your gun if you forgot the murder weapon."
Coming back to direct for his 10th season is Dallas' gifted director Michael Serrecchia. 
When asked why we should see the show, the director said: "It's wonderfully funny. It's an original work by an established local playwright of the highest quality. The cast is stellar. The makeup, the set, the costumes and the lighting are all highly impressive."
Serrecchia continued: "The story is set in the early days of television, and who doesn't love that? It's in magical 'Living Black and White,' and where here else can you see that?" The director added: "Who doesn't like solving a murder while laughing your head off?" 
According to Kleinman: "Pegasus Theatre has engaged audiences with its trademarked 'Living Black & White' technique since it was introduced. Everything is presented in black, white and shades of gray to mimic the look of an old black and white film come to life on stage."
Performances will be at 8 p.m. with 2 p.m. matinees through January 16. For ticket prices and discounts, visit pegasustheatre.org or call 214-821-6005. The Charles W. Eisemann Center is located at 2351 Performance Dr. in Richardson.