By Shari Goldstein Stern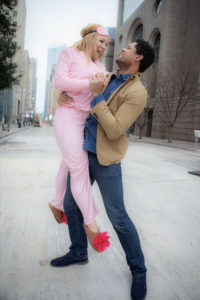 Anyone with a dysfunctional family knows what chaos looks like. If you're part of one, good luck. Currently playing at Theatre Three through February 24, "The Manufactured Myth of Eveline Flynn" is about just such a family, in a bizarre, live-in-color, deep-in-sleep way.
Set partly in real time and partly in dream sequences, we meet Eveline Flynn, an eccentric, flamboyant, often annoying young woman who could use a mood-stabilizer. She is portrayed playfully with an over-the-top performance by Lauren LeBlanc. Whether LeBlanc is a head-banger, a best friend, or a daughter, her performance is crisp. She recently moved to Dallas from Philadelphia and has appeared in TV commercials and theaters around the country. She brings her peppy rendition to the stage, and then smoothly transitions to a dark place. She's beside herself with anger about her brother marrying her best friend, Molly. 
As Molly, Madison Calhoun brings to the role the right amount of chirpy to believe she will soon walk down the aisle. Calhoun has appeared in local theaters including Shakespeare Dallas and Lyric Stage. She gave a memorable performance in last year's remarkable, Theatre Too production of "Self-Injurious Behavior."
Enter Ian Ferguson as Eveline's brother, Stephen. At Monday night's performance, Ferguson, the show's playwright, composer and lyricist, appeared in the role. Ferguson's is a familiar face in Dallas theater, with a recent credit for "Self-Injurious Behavior," in which he excelled as a lousy, deadbeat father. His many acting credits include Kitchen Dog Theatre, Lyric Stage, Second Thought Theatre, and Dallas Theater Center. This time he shows his prowess at being a rat to his fiancé.
Mark Mullino plays Eveline's father, whose persona changes as quickly as a guitar strum. As a rocker, he's priceless. Mullino has been known for his musical direction for years in Dallas theater. His last Theatre Three performance was onstage as El Gallo in The Fantasticks, circa mid-nineties. Mullino has one of the most recognizable names and faces in Dallas theater and beyond. 
The actor is also a director, music director, pianist and teacher. He has earned Leon Rabin Awards from the Dallas Theatre League, Column Awards, and has been seen on a Cabaret circuit in Dallas and New York. 
He is one of the founding co-directors of Dallas Young Artists and is also known for his Music Theatre camps.
Between Jeffrey Schmidt's creative use of space, much of it interchangeable, and Danielle Georgiou's inventive choreography the show exceeds expectations as a musical on the Norma Young stage. 
While it becomes evident which cast members are trained dancers and which keep up, the overall effect resembles big production numbers on traditional, roomy stages.
A standout in the dance sequences, and very easy on the eyes, is Quentin Jones, Jr. as Foster. 
This is the dancer's fourth credit with Theatre Three. He played a young Scrooge in "A Christmas Carol," Tribe in "HAIR," and Terry/Hugo in "Passing Strange." Jones played the role of Actor in the Dallas Theater Center's recent production of "White Rabbit, Red Rabbit." 
As always, Theatre Three's orchestra plays its collective heart out on Ferguson's lively score. With the orchestra situated over the west side of the audience for this show, however, it often plays right over some lyrics.
Portraying Eveline's mother is another recognizable face in area theater, Angela Davis. The triple-threat has area credits at Contemporary Theatre of Dallas, Undermain Theatre and Lyric Theatre among others. 
She was memorable in Echo Theatre's "Her Song" at the Bath House Cultural Center. Hers may be the most understated of roles, and she plays it with control.
One detail of particular interest is that Ferguson, the playwright, was called in to fill the role for this performance with only one day to memorize the role he wrote.
Ferguson hopes audiences take away this thought from the show: "Love people you have while you have them for the good that they are." 
Playing multiple roles as priest Father Joe, a producer Greg, or Dr. Morkan, Spencer Diggers demonstrated his range as comedic character actor. He somehow manages to keep the roles straight with the inherent humor of each.
Michael Frederico's book, Kara-Lynn Vaeni's direction and Vonda Bowling's musical direction come together for a complicated trip in and out of reality, as it is intended.
Clark and Jane Willingham are Theatre Three supporters and season ticketholders. After the show, Jane commented that the production is "impressive," while Clark called it "confusing." This patron also found it hard to follow the chaos.
"Confusion" is pretty much the name of the game in, "The Manufactured Myth of Eveline Flynn," but it is well worth seeing on a night out. "The Manufactured Myth of Eveline Flynn" runs through Feb. 24 at Theatre Three, 2800 Routh St. For additional information visit theatre3dallas.com. For tickets, call 241-871-3300.