Pathways provide easy access to lake
By Nancy Black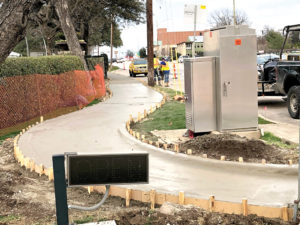 The concrete for the new sidewalk along Garland Road in front of the Arboretum has finally been poured. Approved by the Dallas City Council in October of 2017, the new pathway stretches from the intersection of E. Lawther Dr. and Garland Rd. and runs along the west side of Garland Rd. north toward Timplemore Dr. The sidewalks will allow pedestrians and cyclists easy access to the Dallas Arboretum, Winfrey Point and beyond.
The city's planning and design division, whose goal is to make the area more pedestrian friendly, is overseeing the improvement project. 
The cost is estimated at $450,000 and was paid for through a bond program approved by Dallas voters.