By David Mullen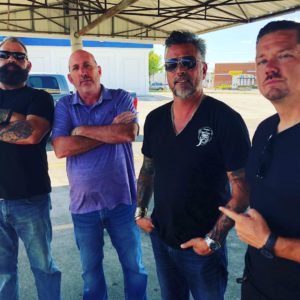 Sometimes, even the best auto repair shops need a little expert service of their own. 
Robert Knapp grew up locally in the automobile business. His father owned Mustang Auto in University Park and was partners in a facility at Abrams Road and Richmond Street. The family had a NAPA Auto Parts, and his grandfather, father and uncle had a Gulf station, both in Mesquite.
"I have sort of been in this business my whole life," said Knapp, 54. "We do everything here but body work. We do brakes, mufflers, engines, transmissions and rear ends."
Despite owning Knapp Auto Repair, formerly Quick Stop Auto Repair, at 6606 E. Northwest Highway for more than 30 years and building a reputation for quality mechanical work, the building had began showing its age. That's where the team from "Garage Rehab" on the Discovery Channel came in.   
"We always have had the mentality that we try to work with the customer," Knapp said. "Money is an object for everybody. So we don't try to do the big box store thing where we do a package deal and try to oversell. We do what's needed, give you a schedule, and make sure that your car is safe, dependable and going to last you longer. We were fortunate that Richard Rawlings contacted us."
Rawlings and his team look for automotive businesses that may be in a bit of disrepair and give them a fresh new look. Now in year two, "Garage Rehab" is an hour-long television program that features a before and after look and takes viewers through the process.
A Dallas resident, Rawlings created the reality television show "Fast N' Loud" on Discovery Channel before moving into "Garage Rehab." But he might be best known locally as owner of the Gas Monkey Garage, the Gas Monkey Bar N' Grill and the Gas Monkey Live! music venue in Dallas.
"We [Rawlings] and I have a mutual friend who suggested that we get on the show. So we shot a video and submitted it. They came and shut us down for two weeks back in June," Knapp said. "We shot for about three days, and then they moved the program up and said we literally had to be out in one day." 
Knapp was not allowed back on the premises until the work was completed, and actually faced the harsh reality that some things weren't working right. "As I told them [the 'Garage Rehab' team], you didn't tell me anything I didn't know, you just opened my eyes to what I wasn't doing."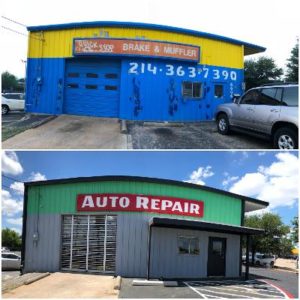 After a couple of weeks, Knapp returned to a spiffy shop and with a changed attitude. "They actually redid the whole place. New equipment. New paint job. A new look. We used to be a two mechanic shop and now we are a four mechanic shop." Knapp provides services like a shuttle, discounted rental cars and a secure night drop-box for after hours. Knapp Auto Repair is open Monday through Friday from 8 a.m. to 6 p.m., Saturday from 8 a.m. to noon and closed on Sunday.
"We work really hard at customer service," Knapp said. "Sometimes that might mean you don't make anything on the job. But Lakewood, and all of East Dallas really, is such a great community. If you do a good job, then one person tells a friend and then they tell a friend. [And the new look] has made us more appealing to the soccer moms because it looks better. 
"Really, the old look was just tired. But since the show, it really rejuvenated me."
Not only did the new look serve as an inspiration to do more at his shop, Knapp has gotten even more active in the community. He is going to start offering free informational classes for women. He is incorporating a new pricing system through social media. As a tribute to Rawlings' father and Knapp's late mother, he had his first annual benefit for Alzheimer's in February. And he has introduced a new logo designed by area artist William "Bubba" Flint with the tagline, "We can fix anything but a Broken Heart!"    
"I should have been doing these things 10 years ago," Knapp said. "But because of the show, it gave me a breath of new life."