LEAVE A LEGACY
By Katie Mudd
The Magdalen House, a nonprofit organization helping women achieve sobriety and sustain recovery from alcoholism at no cost and based on 12-Step spiritual principles, held the annual Leave a Legacy "Live Loud and Free" community concert on November 3 at The Rustic, with guests decked out in their finest western wear. Those in attendance were treated to compelling stories of recovered alcoholic women from the community and live entertainment by Drew Holcomb & The Neighbors. Guests were able to bid on incredible auction items — all while celebrating The Magdalen House's 35th anniversary and raising awareness and much-needed funds to help D/FW women achieve sobriety and sustain long-term recovery from alcoholism.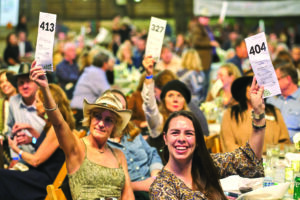 "Leave a Legacy is our favorite event of the year," says Lisa Kroencke, executive director of The Magdalen House. "We created this event with the inspiration of the very women we serve in mind. Witnessing recovered alcoholic women come together and help others find freedom and recovery from alcoholism is incredible. Leave a Legacy was designed to demonstrate the importance of the services The Magdalen House provides to all alcoholic women and reduce the stigma surrounding alcoholism while inspiring attendees to make a lasting impact that will help alcoholic women. We are extremely grateful for the generous support of our community." 
Robin Bagwell was also honored at this year's Leave a Legacy event as the 2022 Paul Tate Advocate Award Recipient. 
Robin is a longtime supporter of The Magdalen House and has helped transform the lives of countless alcoholic women and their families throughout the greater Dallas-Fort Worth community. 
Support for alcoholic women across D/FW and beyond continues to grow. According to a recent study, women increased their drinking by 41 percent more than before the pandemic. 
Today, there are more than 250,000 alcoholic women in D/FW alone. Less than 1 in 15 alcoholic women (only 6.9 percent) will seek formal help. Because women face more stigmatization, shame, family responsibilities and socioeconomic barriers than men, they frequently have co-occurring disorders and are less likely to seek treatment. 
If you're an alcoholic who can't stop drinking, or a concerned loved one of an alcoholic, the first step in recovery is education and access to resources. Fundraising events like Leave a Legacy help to ensure that The Magdalen House can continue providing no-cost services to alcoholic women. 
For more information, visit magdalenhouse.org,