By Carrie Dyer
Saigebrook Development and O-SDA Industries, two women-owned and HUB-certified real estate firms committed to meeting affordable housing needs in Texas, are breaking ground on a new mixed-income housing community that will bring 87 units of high-quality affordable and market-rate housing to the rapidly growing Old East Dallas neighborhood located in City Council District 2 represented by Council Member Jesse Moreno.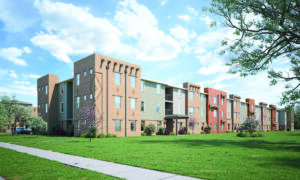 With the help of unique and innovative partners, the property, Kiva East, aims to alleviate the urgent need for quality affordable housing in Dallas. According to Apartment List, from October 2021 to 2022, Dallas rents have increased 10 percent and earlier this year, RealPage data reported apartment occupancy rates at 97 percent, creating an immediate challenge for Dallas residents. Kiva East will offer 71 of its units at rents affordable to households making between 30 percent and 60 percent of area median income through a partnership with the Texas Department of Housing and Community Affairs, and the use of Housing Tax Credit financing.
With support from the City of Dallas, Kiva East secured critical financing to execute the development, including $2.48 million in HOME Investment Partnerships Funds from the U.S. Department of Housing and Urban Development (HUD). The HOME funds were awarded through the City of Dallas' Department of Housing and Neighborhood Revitalization's standing Notice of Funding Availability (NOFA) process to support the development of mixed-income throughout the city and to ensure affordability for a period of 20 years. The project also received a loan from LISC's Dallas Housing Opportunity Fund, which invests in and alongside local developers to create and preserve affordable housing options for households earning at or below 120 percent of the area median income. Other partners include Hudson Housing Capital, Citibank, Legacy Bank, and the Texas State Affordable Housing Corporation.
The property has direct access to the Santa Fe Trail, a wide walk-able and bike-able concrete path that connects Deep Ellum to White Rock Lake. Additionally, Kiva East will serve as the home to Bezos Academy, a tuition-free, Montessori-inspired pre-school. The school will have two classrooms and follow a full-day, year-round schedule, providing 40 children with early childhood education. Bezos Academy signed a 10-year lease agreement with Kiva East and the Bezos Foundation will fund the interior build out of the school space.
"We are proud of the unique community that we are creating with Kiva East," said Lisa Stephens, owner and president of Saigebrook Development. "The development exemplifies the ideal high-quality mixed-income housing community. We leveraged cutting edge partnerships to go beyond just meeting affordable housing needs and create an enriched living experience for our residents."
Units will feature high-efficiency appliances and lighting, solid surface counters, tiled kitchen backsplashes and vinyl plank flooring. Community amenities will include a fully furnished two-story clubhouse with a community room, business center, leasing center, fitness center, splash pad and bicycle parking.
Kiva East will be National Green Building Standard (NGBS) certified. For more information, visit https://affordablehousingtexas.com/about-osda/.