By Dr. Beth Leermakers
Daisy, a Golden Retriever guide dog, rescued 967 people from the World Trade Center towers on September 11, 2001. This story popped up in my FaceBook newsfeed on September 11. Unfortunately, when I started researching hero dogs, I was disappointed to discover that the claim is false. There was no Daisy — or any other dog that rescued hundreds of people from the collapsing towers on 9/11.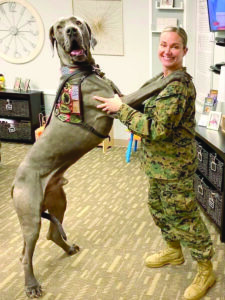 However, there were plenty of real canine heroes on that tragic day and beyond. Two guide dogs (Salty and Roselle) led their people to safety from the 71st and 78th floors of the damaged towers. And about 300 specially trained dogs assisted in search and rescue efforts and comforted survivors. 
In challenging times, we need to be inspired — and given hope — by courageous, life-saving acts. I've highlighted a few real-life canine heroes. Two of these dogs are finalists for the American Humane Hero Dog Awards (winner will be chosen on November 11). 
Police dog captures a fugitive. On September 13 a Belgian Malinois named Yoda detained Danilo Cavalcante, who escaped from a Pennsylvania prison on August 31. Cavalcante was convicted in August  of killing his former girlfriend. After an almost two-week manhunt for Cavalcante, police finally located him. When the prisoner (armed with a stolen rifle) tried to flee, Yoda bit him and held him down until the police took him into custody. By subduing Cavalcante, Yoda prevented the police from having to use lethal force. With Yoda's help, the police apprehended the fugitive within about five minutes after they started moving in on him. Way to go, Yoda! 
Family dog protects lost children. In November 2022, Artemis, a Golden Retriever, stayed with his 4- and 7-year-old little girls for hours after they followed him into the woods near their Louisiana home. 
Artemis cuddled up with the girls to keep them warm while they slept. He alerted rescuers by barking when they neared the lost trio. When rescuers approached the girls, Artemis growled at them — protecting his charges. 
Bomb sniffing dog kept travelers and sports fans safe. Dzasper, a German short-haired pointer from North Richland Hills, was nominated for the American Humane Hero Dog Awards (but is not a finalist, sadly). This certified explosive canine for the Transportation Security Agency (TSA) sniffed out explosives at DFW airport, Dallas Cowboys games, SMU football games and Super Bowl LIII in Atlanta. After years of service and putting smiles on travelers' faces, Dzasper retired last spring and now lives with his family.  
Gentle giant comforts military heroes and their families. Maverick, a 150-pound Great Dane, is a United Service Organization (USO) therapy dog in Missouri. Stationed at the Fort Leonard Wood post, Maverick supports service members, helps men and women cope with trauma, and escorts children to military funerals for their parents. Maverick is an American Humane Hero Dog finalist in the therapy category. Good luck, Maverick!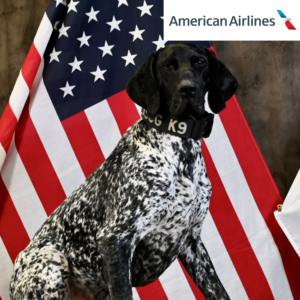 Coast Guard canine protects his community on water and land. Buda (pictured) is a German shorthaired pointer from California who is one of only 18 certified explosives-detection canines in the U.S. Coast Guard. Buda has completed more than 185 operational deployments — sniffing for bombs on ships and at events like Super Bowl LVI in Los Angeles and responding to bomb threats. Buda is the Hero Dog finalist in the military working category. Good luck, Buda! Dzasper had tough competition in this category. 
Dogs don't have to perform newsworthy feats to be heroes. Many dogs in our community help people and other dogs every day by:
• Donating blood for other dogs who need life-saving blood transfusions.
• Providing companionship, emotional support and a sense of purpose for their people.
• Comforting people in nursing homes, hospitals and schools.
• Acting as breed ambassadors to change negative opinions about their breed (e.g., pit bulls).
• Making people smile and laugh. 
Thank you to hero dogs everywhere!