By Chic DiCiccio
If anyone told you back in October that "Joker" would end up with the most nominations at the 2020 Academy Awards, there's a good chance you'd think that came from a crazy person. Well, 11 nominations and $335 million later, that zany prediction is now a reality. However, there aren't many people calling "Joker" the best movie of the year. That discussion is reserved for "Parasite" and "1917," which are thought to be the two movies duking it out for this year's Best Picture Oscar. The only way this category gets controversial is if any of the others win over those two, in particular, the divisive "Joker" or "Jojo Rabbit," neither of which were overwhelming critical darlings. 
Award shows aren't exactly thrilling television, and when you add in the fact that several of the awards this weekend are foregone conclusions, it adds up to a snoozer. Renee Zellweger is an absolute lock for Best Actress, even though the other four nominees (Cynthia Erivo, Scarlett Johansson, Saorise Ronan, Charlize Theron) are all arguably deserving. If you were a bettor, this would be as close to sure money as you can get on Sunday. 
Best Supporting Actor is almost as big of a lock as Best Actress. Brad Pitt's stoner with a history of being a bad husband (a self-admitted "stretch" for him) in "Once Upon A Time In…Hollywood" is the front runner. Tom Hanks and Anthony Hopkins have some long odds and since Al Pacino and Joe Pesci could split votes for their performances in "The Irishman," Pitt is a safe choice. This critic would like to see Florence Pugh holding Oscar gold as the Best Supporting Actress for "Little Women," but alas, it's probably going to go to her co-star. Laura Dern is so great in "Marriage Story" that many have forgotten how fantastic she was in "Little Women." Leave it to Dern to overshadow herself.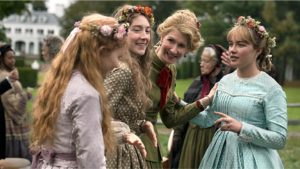 Directing is a bit tougher to predict. Could we see Bong Joon Ho win for "Parasite" but lose out on Best Picture? It could be reversed for Sam Mendes and "1917." While "Parasite" is fantastic, Mendes should win out here just for the fact that he and cinematographer Roger Deakins (who should also take home a statue) pulled off the one-shot genius that is "1917." 
Even though there's little doubt about Best Actor, the winner is surely to be divisive. Joaquin Phoenix should win his first Oscar for "Joker," but there's going to be a load of people not happy about it. It's become such a hot button topic due to its themes that people are overlooking the fact that it's a movie that is fully satirizing and attacking the very culture that critics claim it promotes. Phoenix is definitely aware of that fact and milks it for all that it is worth, which makes him deserving of the win. 
Snubs? Adam Sandler's role in "Uncut Gems" is arguably the most egregious, followed closely by Jennifer Lopez in "Hustlers." Their respective categories have nominees that can easily be removed, but who gets replaced in the Best Director field for Greta Gerwig? That's a tougher call. 
Regardless, the big winner on Sunday will probably be "1917." It has 10 nominations in total and is the front runner in more than half of those. If there is a movie that could come away fully disappointed is Martin Scorcese's "The Irishman." 
So, get out there and place your bets. At the very least, it will help you stay awake during the show on Sunday.