By Patty Sullivan
 CC Young, a premier, non-profit senior living community, has announced its call for art and writing entries for the 2023 Spirit is Ageless Art & Writing Contest. Residents of CC Young and the public, age 55 and better, are invited to submit their original art and writing creations. Online registration begins on Tuesday, Aug. 1, and entries will be accepted in person on Tuesday and Wednesday, Aug. 22 and 23, respectively, at The Point on the CC Young campus located at 4847 West Lawther Drive in Dallas.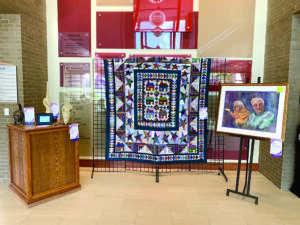 The Spirit is Ageless show will be on display at The Point from August 29 through October 27.
Debuting in 1999, the Spirit is Ageless Art & Writing Contest has continued to be a very special event for the Dallas-Fort Worth community and CC Young. The annual contest, art gallery show and public celebration of artists and writers unites the North Texas area, highlighting submissions from 15 categories and showcasing each individual's ageless artistry, the capability to thrive and ambition to share their creativity and talents with the public, regardless of one's stature. 
All ability levels are welcome to participate in the contest.  
"CC Young is dedicated to serving and celebrating our residents and community at large so each individual can continue to grow in body, mind and spirit, regardless of their personal circumstances or limitations," said Brian Parman, director of The Point & Pavilion at CC Young. "This annual contest inspires and celebrates each person's creativity and artistic expression." 
The contest is open to the public, age 55 or better, as well as residents of CC Young. To be eligible, the art must have been completed at age 55 or better and created by the person entering the piece. 
CC Young residents are limited to entering two (2) pieces and there is NO cost. All others are limited to entering one (1) complimentary piece and may enter one (1) additional piece of art for a $10.00 entrance fee, which must be paid at the time of art delivery/drop off. 
For full contest details and online entry form, visit ccyoung.org/events. Additional information is available by contacting Angela Castillo at [email protected] or 214-841-2831.
Winners will be recognized at a celebration held at The Point on Friday, October 27, from 2-4 p.m. 
RSVPs are required at [email protected] or call 214-841-2831.