By David Mullen
At the podium, Dallas Mayor Eric Johnson was beaming like a kid who just opened a fresh pack of baseball cards and found his favorite player on top.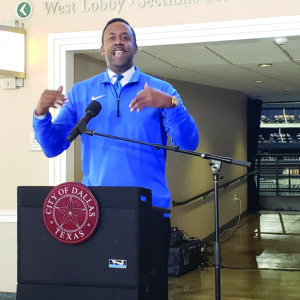 On September 19 at American Airlines Center, Johnson revealed the Mayor's Youth Sports Ticket Program, an initiative created to welcome local youth to area professional sporting events at no charge. 
"I don't think it is news to anyone how much I love sports," Johnson said. "I understand that sports are not for everyone. But as a fan and as the mayor of this great city, I understand the tremendous value that sports teams bring. Sports gives us civic pride. It can teach us real important life lessons. Sports can inspire us and let us dream about the possibilities at being truly great at something."
With the support of the Dallas Sports Commission, Johnson announced that the mayor's program will provide up to two tickets to sports experiences each year to adolescents, with each youth ticket holder also receiving an accompanying ticket for a chaperone. More information can be found at dallassports.org/mayors-youth-ticket-program.
"[Sports] gives our families something to do," Johnson said. "It helps kids in our city stay safe and stay out of trouble."
In my youth, the curmudgeon owner of the Oakland A's, Charles O. Finley, had a soft spot. He wanted area youth to have a chance to go to A's games, so he came up with a program called the "Knothole Gang," named after the freeloaders who viewed baseball games through spy holes created from removing a knot in the wooden fences that surrounded old ballparks.  
Kids 13 and under could sit in the bleachers for $.75. I would cut two neighbor's lawns for $1 a piece on a Saturday morning and have enough money for a roundtrip bus ride to the Oakland Coliseum, a bleacher seat, a scorecard, a soda and still had sufficient funds to invest in baseball cards at Art's Five and Dime store on the way home.
With my Knothole Gang ducat, I always sat in the right field bleachers called "Reggie's Regiment" because they were behind the A's budding superstar Reggie Jackson. Knowing what I know now and having met Jackson on several occasions, I should have sat in left field behind Joe Rudi.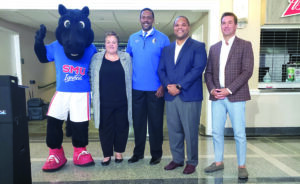 But in the long run, it didn't matter. Professional athletes were gladiators, and the Coliseum was their Colosseum. I sat in the sun, stayed out of trouble and learned the game of baseball. All kids should get the same chance.   
"When I was a kid growing up in this city," Johnson said, "we could go to the grocery store and get free tickets to the Cowboys, back when they were playing at Texas Stadium. Of course, those days are long gone. Sports tickets, like everything else, are a lot more expensive these days."   
In addition to the Mavericks and Stars, program partners include the Dallas Wings, FC Dallas, Dallas Cowboys, Fair Park First, SMU, Dallas Baptist University, University of Dallas, University of Texas at Dallas, Texas Motorplex in Ennis, MEX Tour, NCAA Women's Final Four, World Food Championship and First Responder Bowl. New ticket partners will continue to be added. Are you listening, Texas Rangers?
Dallas Sports Commission Executive Director Monica Paul, Rolando Blackman, VP of corporate communications for the Mavericks and President of the Stars Foundation Marty Turco were on hand for the program unveiling. Paul told me that due to the timing, the Rangers were not part of the announcement. 
She seemed cautiously optimistic that they will eventually be on board.
"When we looked to start this program," Paul said, "I wasn't sure it was going to be that long of a list. But it shows that the sports organizations here are dedicated to giving back to the community and recognize the benefits to kids that are developing."    
"As an emigrant from Panama City, Panama, moving to New York City and growing up in the late 60s," Blackman said, "we had the New York Knicks and the New York Mets. Having the opportunity to watch those people play and win a championship was such a fantastic inspiration for a kid that had just moved to this country for educational value. 
"For a kid like me and others on my block to get into the stadium and yell and scream and have a great time provided community value," Blackman said. 
"We can uplift these kids and make them feel that they are part of something special to be part of a community. What matters is to feel included and that you are of value." 
"It is hard to believe that we [Stars] have been here for almost 30 years. It's crazy to think," said Turco, who looks today like he could still put on the pads and hit the ice. "As an old goalie — I was drafted in 1994, which most people don't care to remember — but it is a real honor to be in this city for that long. My family and I have lived here for more than two decades and have seen this city evolve."
Before the Stars moved from the Minneapolis-St. Paul area in 1993, ice in Dallas could be found at the Plaza of the Americas, the Galleria Dallas and in a rocks glass at 8.0 in the Quadrangle.
"We have 18 sheets of ice around the Metroplex," Turco said. "Our commitment to youth has never been higher and to be part of this program and get people to see this amazing game is going to be something else. When people see hockey live for the first time, it is always inspiring to see their faces."    
"The City of Dallas is passionate about our youth," Mayor Johnson said. "We, as the city, must invest in them and provide opportunities that they may not have otherwise. I have always loved sports of all shapes and sizes, and I am ecstatic to launch this innovative program to share that love with the children of my city."
Thanks to a commitment by Dallas Mayor Johnson, sports area leaders and local teams and venues, youth will be served.