By David Mullen
From Dallas City Hall Plaza at 1500 Marilla St. on Sunday, Dec. 11 at 8:30 a.m., more than 25,000 marathon and half-marathon runners representing the world will rush toward the starting line at the 50th BMW Dallas Marathon. Don't look for New Country 96.3 morning radio host Mark "Hawkeye" Louis.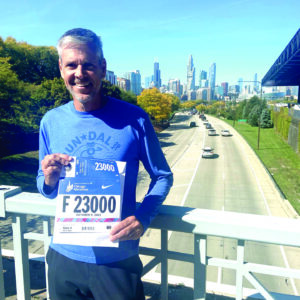 He is starting the race in last place for a good reason. 
"The last man running starts absolutely last," said Louis, an accomplished runner. "There are four or five corrals in the Marathon. When the last corral goes through and the last person crosses the start line, that's when I jump into the race. I am literally the very last person to start." 
Louis is not worried about getting off to a bad start. That's the plan. It's how he finishes that will count.
"For every person I pass, a donation will go to Scottish Rite for Children," Louis said. "I am going to run the half-marathon, so every half-marathoner I pass, a donation will go [to Scottish Rite]." Contributions can be made at hawkeyeinthemorning.com.  
The last man running practice at the Dallas Marathon is a decade old, and Louis was supposed to be the inaugural last runner. But a broken ankle just before the race thwarted his maiden voyage and thrust Craig Miller of 1310 The Ticket into a replacement role. "I'm so excited I finally get to do it," Louis said. 
Scottish Rite for Children in Dallas is one of the nation's leading pediatric orthopedic hospitals, offering a wide range of treatment from sports injuries and fractures to certain arthritic, neurological and learning disorders. Patients receive treatment regardless of the family's ability to pay.
Technology has eliminated the need for runners to toe the starting line for the best time. A timer chip on his race bib will keep track of the number of runners he passes and begins and ends when he crosses the start/finish line at City Hall. "Everyone is really racing on their own. When you cross the start line, that is when your time starts and the chip will keep an accurate count of the runners I pass," Louis said.  
Louis is host of the longest running FM morning show in Dallas-Fort Worth. He is a member of the Country Radio Hall of Fame, the Texas Radio Hall of Fame and is a winner of the Billboard Air Personality of the Year. Louis teams with Michelle Rodriguez on KSCS-FM New Country 96.3. He has been on the local airwaves since 1988 when local radio legend Terry Dorsey hired Louis and it evolved into "Hawkeye and Dorsey in the Morning" on KSCS-FM.
"I have been fortunate to be at one station for a long time," said Louis. "I've been through four owners." 
Living with his wife in a home near White Rock Lake, Louis gets up at 3:30 a.m. and tries to arrive at the station between 4 and 4:30 a.m. for show preparation. "We go on the air at 5:30 and our show ends at 10," Louis said, "and then usually I'm there for an hour to an hour and a half getting ready for the next day and having meetings. Around noon, my day is over."
Louis runs four times a week, usually in the afternoon when the weather permits and in the early evenings during the summer. "I am a member of the Dallas Running Club and run with them on weekends a lot," Louis said. 
He will take a nap during the day before his twilight runs. "You have to be very judicious with your time. Sleep is paramount. You have to make sure you are getting your rest, especially as you get older. Rest and sleep are as important as training and running. I don't need to run every single day. My body — physically — can't put up with that anymore."  
In October, Louis ran the Chicago Marathon. Having held numerous chair and board positions with the Dallas Marathon, he looks at races from a different perspective. "I like to compare the Dallas Marathon to other marathons," Louis said. "I've run in New York and Chicago and half-marathons in Houston, San Antonio, Oklahoma City and Fort Worth. I feel like I am on a mission. I'm looking around saying, 'Oh, that's a good thing they are doing there' or 'Oh wow. We really outshine them there.'"
Louis and Rodriguez will begin the 2022 BMW Dallas Marathon as the race announcers. After the last registered runner departs, Louis will hit the streets. "When I finish, I will announce the rest of the race."
The 2022 BMW Dallas Marathon is more than a race. It is a festival of events, including a Health & Fitness Expo at the Kay Bailey Hutchison Convention Center at 650 S. Griffin St., a two-lap Grand Prix style race called the "Friday Night Lights Mile," a 10K, 5K and Kids 100M dash on Saturday, Dec. 10, plus the Sunday, Dec. 11 relays, half-marathon, full marathon and the 50K ultra marathon. "If you do enjoy running, even if you are not a marathoner or half-marathoner, the Saturday 5K and 10K are like no other races," Louis said. "We convert City Hall Plaza into the start/finish arena, and, when you finish, you get that big time feeling."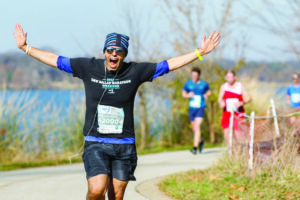 For more information, go to bmwdallasmarathon.com.
These days, Louis prefers the half-marathon distance. In addressing the "wall' runners face late in marathon races, Louis said: "They say the [marathon] race has two halves: the first 20 miles and the last six miles. One of the good things and bad things about the Dallas Marathon is at mile 20, you are at the lake [White Rock]. At mile 21, you are up in [hilly] Lakewood. But the last five miles are all downhill."        
Mark "Hawkeye" Louis is a radio anomaly. He is in excellent physical condition while keeping an unimaginable work schedule. Despite ownership and management changes and format tweaks, Louis has remained in one market at one station for decades. "I love what I do, and I am resilient. Just being resilient is the secret to my success." In radio terms, he has gone the distance, and now he will go the distance to benefit children in need.