By Jennifer Hoesterey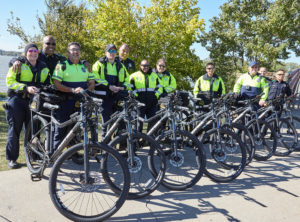 A White Rock couple, in partnership with the White Rock Lake Conservancy, recently donated a fleet of eight bikes and riding gear to the Dallas Police Bicycle Unit. The presentation of those bikes and equipment took place on Friday, Nov. 1 at the Mockingbird Pedestrian Bridge at White Rock Lake.
The couple said their mother, Tucker Burns, was a Dallas resident at CC Young retirement center who loved to frequent White Rock Lake. Her family says it was one of her favorite things to do. 
She even befriended officers from the bicycle unit who regularly patrolled the lake area. 
To honor Mrs. Burns' memory and her love for White Rock Lake, her family and the White Rock Conservancy made the presentation Friday. 
"We are grateful for this couple's generosity," said Jesse Reyes of the east patrol bureau. 
"We not only strive to keep our citizens safe, but we also strive to form meaningful bonds and relationships and show the citizens that we are a part of the community."