By David Mullen
The best women's volleyball players in the world — including the U.S. National Team — are ready to serve up a global experience in the Volleyball Nations League (VNL) Finals in Arlington now through Sunday, July 16.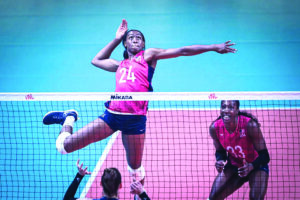 One U.S. National Team member chose the volleyball court over the basketball court.
Asjia O'Neal, a 6-foot-2-inch middle blocker from Southlake, helped the University of Texas women's volleyball team capture the 2022 NCAA Championship over Louisville in December. "In sixth grade, I asked my dad to train me during the summer for basketball," O'Neal said. "I went to my first practice in the fall of sixth grade and I realized I did not like it. It was not for me." 
Her dad is Jermaine O'Neal, a six-time NBA All-Star forward who played 18 seasons with seven teams, primarily the Indiana Pacers. In 2016, he was the first-round selection of the Portland Trailblazers (17th overall) out of Eau Claire High School in Columbia, S.C. The 2016 NBA draft class included Allen Iverson, Steve Nash and Kobe Bryant.
When Jermaine played his first game with Portland at 18 years, one month and 22 days old, he became the youngest player ever to play in an NBA game. In 2002, he was named the league's most improved player, if not its most influential father. 
"[Basketball] is definitely one of my favorite sports to watch because I was raised around it," O'Neal said. "But I wanted something of my own. Growing up around a father that played basketball, I wanted to find my own path." The path led to volleyball.
 While most VNL players are professional and play on teams in other countries, O'Neal remains an amateur and is returning to UT to defend their NCAA National Championship. However, her future career path, in volleyball speak, is "set."
"I already have my undergraduate and my master's, so COVID helped out. This is my COVID year," said O'Neal, one of the few people that found a silver lining in the pandemic's black cloud. The NCAA granted some athletes another collegiate year of competition due to COVID-19 cancellations. 
"I did my undergrad in corporate communications and my master's program in sports management," said O'Neal, with the polish of a trained communicator. "I want to be an agent. My plan is to go to law school when I am done playing, to be as qualified as I can to be an agent. I think I am going to start with a focus on basketball. That's where I am most knowledgeable."      
After completing more than six weeks of competition in East Asia, Turkey and Brazil, the world's best players will vie for the VNL championship trophy. The U.S. National team include the players who will represent the USA in the 2024 Summer Olympic Games in Paris.
"The Dallas/Fort Worth area has a tremendous level of awareness in volleyball between the schools and club teams' participation," said the CEO of Volleyball World, Finn Taylor. 
Taylor's mission is to take an already global sport to new heights by increasing the sport's profile and popularity in the U.S. "This is a family sport," Taylor said. "I hope everyone will come out to witness the game in person." The Women's VNL World Finals are at College Park Center, 600 S. Center St. in Arlington. Tickets are available at vnltickets.com.
The U.S. National women's volleyball team — the 2020 Tokyo Olympics gold medalists — are coached by volleyball legend Karch Kiraly. In addition to O'Neal, Texas is well represented on the team by Olympic gold medalist Chiaka Ogbogu from Coppell, Kendleton's Brionne Butler and Katy's Avery Skinner, an All-American at both Kentucky and Baylor. 
Training for high-level volleyball competitions requires various workouts, including weight training. "We work on a lot of explosion and lower body," O'Neal said. "Cardio-wise, we do a lot of sand volleyball workouts like sprints and agility work in the sand or on the track. It is more like quick sprints and changes of direction. We do a lot of jumping. It's not like basketball. We are not a 'mile-running' team."
"These are the finest women's players in the world," said Taylor, who was born in Australia and splits time between Switzerland and Canada.  "Their athletic ability, their jumping skills and the overall experience is something for fans to see."  
While winning the 2023 VNL Championship and repeating as an NCAA champion are top priorities, O'Neal said making the 2024 Olympic team would be a dream come true. "It would honestly be insane. It is something I have always wanted to do since I've played volleyball. I remember when I was 12 years old, first starting the sport, and I was talking to my uncle and said, 'I am going to make it to Paris in 2024.' Hopefully, I manifested that and can take it into existence. That would be crazy to see that full circle moment."
International competition has already given O'Neal a unique perspective. "I went in with expectations of getting better and doing whatever I could for my team. When I got thrown into the first match against Serbia, it was like a log in the fire. it was so fun. Seeing how invested the fans were in Turkey and Brazil, it is like their NBA and NFL. It's a big step up from college. It felt like an NBA Game 7." 
O'Neal expects a large number of friends and family members from Southlake and UT teammates in Arlington for the VNL Championships. "I honestly like having people there. It makes me play better." At 23, O'Neal has already gone far with multiple degrees, an NCAA Championship, a spot on the current National Team roster and games around the world. Making it to Paris in 2024 would complete her journey.