By Shari Goldstein Stern
Dallas's vibrant performing arts presence has another entry into the bustling theater community, East Dallas Arts (EDA). In 2018, Amy Kulas and Tom Parr founded East Dallas Arts, whose mission is, "To bring the community together by providing opportunities to develop an appreciation for the arts through performance, education and arts experiences."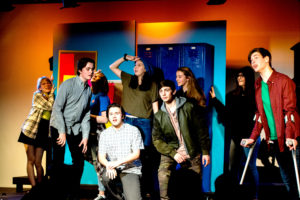 Artistic Director Parr has been involved with Dallas' arts for the past 20 years since graduating from Baylor University with a BFA in theatre performance. An original cofounder of Second Thought Theater, he has directed at multiple theaters in the Metroplex. He spent the past 10 years focusing on Educational Theatre Building, an integration arts program at St. John's Episcopal School. 
Kulas, executive director, is a former elementary school teacher who attended Texas Christian University. She has led worship as a soloist for Cornerstone at Highland Park United Methodist Church, worked as the director of worship for Cornerstone, served as president of the Lakewood Service League, and has held a variety of other volunteer and leadership positions at her childrens' schools, through her church and in her Lakewood community.
According to Kulas, "The buzz for our current show, '13' has been great and we have had full house performances for the first four shows." The run continues this weekend, March 5, 6 and 7 at 7:30 p.m. 
Adults, children and teens are invited to participate in designated programs and auditions at EDA. Plans for the group are to offer five MainStage productions a year. 
A variety of children and teen programs throughout the year include summer camps and after-school programs. 
EDA will host master acting classes, comedy nights, open mic nights and musical acts. According to Kulas, the group plans to showcase all kinds of art, like visual art, dance, photography and others in addition to theatrical performances but their immediate work is focusing on theatre and musical theatre. 
"We want to be a place where everyone from the community feels welcome to jump in. If folks don't see themselves on the stage but would like to work behind the scenes on set building, painting, sound or lights, we want those members from the community who have experience with those skills or have an interest in getting involved," Kulas explained. 
EDA offers performances, classes and programs for children, teens and adults. The whole family's participation can be a unique bonding opportunity, too. 
Kulas added: "Anyone is welcome to participate. We will have shows, classes and programs that focus primarily on kids, some that focus on teens and some where all ages are encouraged to participate."
EDA has six board members who represent the fields of law, marketing and corporate communications, with Alexandra Elliott as chair. 
Elliott said, "[Our purpose is] to use our different talents to help East Dallas Arts thrive and become a place for everyone, every age to share in variety of arts experiences in our community."
Elliott continued: "I became a board member when Tom Parr told me about his vision for East Dallas Arts and how he and Amy Kulas wanted to bring more opportunities for everyone, young and old, to share in variety of arts experiences in our community, including theater, open mic nights, musical performances and more."
EDA holds auditions a month or so before rehearsals begin for each show. Auditions for the summer MainStage production of "Seussical," with rehearsals to begin the end of June, will be in May. This show will be cast with adults and children seven years old and up. For audition information throughout the season as it becomes available, visit 
@eastdallasarts and other social media.
EDA is located at 10620 E. Northwest Highway on the southwest quadrant of Lake Highlands/Plano Rd. and Northwest Highway. For tickets and additional information, visit eastdallasarts.org.