By Juliette Coulter
To kick off 2022 and encourage people to enjoy the outdoors, the Dallas Arboretum and Botanical Garden offers $5 general admission starting on January 2 for the entire month.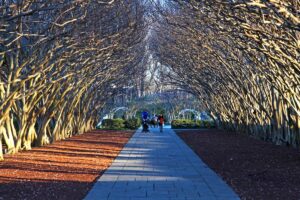 Tickets need to be purchased online. Pre-purchased parking is $11. The Rory Meyers Children's Adventure Garden is closed for preventative maintenance January 2 to February 19.   
Dave Forehand, Dallas Arboretum's vice president of gardens, said: "The new year is a great time to set a goal of getting exercise, and the Dallas Arboretum is the perfect place to go. For those interested, we have a one-mile fitness trail where many walk-ing groups stroll. Plus, you can see our gardeners preparing for our upcoming Dallas Blooms festival, which starts on February 19 with a 'Birds in Paradise' theme." 
 For those who want to enjoy an elegant, three-course Friendship Tea, the dates are Jan. 2–Feb. 19 for guests 13 and older. Prices are $39 per person for traditional tea and $49 per person for champagne tea and include parking and admission to the garden. 
Friendship Teas are held in the DeGolyer Loggia and Restaurant DeGolyer. Reservations are required and can be made by calling 214-515-6511 or purchased online at dallasarboretum.org.