By Nancy Black
Air conditioning repairman Jesse Simmons' work truck is his livelihood. So, when he got an alert from his security cameras of movement coming from outside his house in the early morning hours of August 3, he grabbed his gun and went out to investigate. 
"Can I help you?" Jesse Simmons asked twice as he approached a man who was trying to enter Simmons' truck. In response, the would-be thief pulled out his own gun, shot Simmons and then fled the scene.
The Dallas Police Department responded to the shooting in the 9800 block of Donegel Dr. around 5:30 a.m., and Simmons was rushed to a local hospital.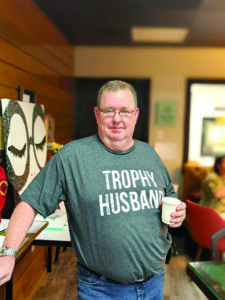 Doctors say the bullet traveled through Simmons' liver, a kidney and spine. Emergency surgery repaired the vital organs, and Simmons is set to have spinal surgery this week. He does have feeling and some movement in his feet, so his family remains optimistic about his recovery, though they know it will be a long road to travel before having their husband, father and friend back to 100 percent.
As the owner of Jesse's A/C and Appliance Service, Simmons has served and supported the East Dallas community not only as a Jack of all Trades but also as an advocate for small businesses. He is one of the founders of East Dallas Networking, an award-winning board member of the Greater East Dallas Chamber of Commerce and a founding member of the charity 100 Men of Dallas. Simmons also serves as the longtime Easter Bunny for the Newellian Easter Parade in Hollywood Heights.
Simmons' friends are embracing him and his family during this difficult time. They set up a GoFundMe page to help with the ever-mounting medical bills and the crushing loss of income.
Simmons' close friend and Co-founder of East Dallas Networking Chuck Kobdish said: "Jesse is a bull in the China shop. He is gruff. Yet one of the kindest and most generous folks I know. He is a friend to all that know him. And our friend needs help."
Visit gofundme.com/f/jesse-and-his-family-need-your-help to donate to the Simmons family. There is also a $15,000 reward for information leading to an arrest. Call 1-800-222-TIPS today.