2013 – 2022
George the Rooster was a truly special egg — one in a million. If there was ever a rooster who had a hero's heart, it was George. He was known and loved by many people across North Texas and even around the world. He nobly died protecting his flock.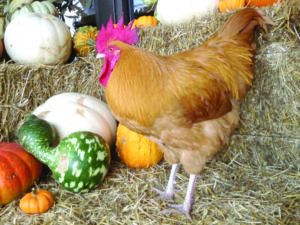 George was a Buff Orpington rooster. He hatched on March 27 of 2013 in Dallas, Texas and was adopted by a young girl, Abi, who initially thought he was a hen. When the "hen" began to crow, it quickly became apparent that he was in fact a rooster, so Abi named him George. Since roosters are not allowed at homes in the city due to noise ordinances, Abi took George to live at Gecko Hardware where the staff immediately fell in love with him and vice versa.
The lovefest soon took flight and spread to the store's customers, who began to drop by just to have their photo taken with George or to hold and carry him around the store. The store's co-owner, Jennifer Stuart, would often let George sit on the back of her chair or up at the cash register, where he had a special perch. Children would laugh with glee when he crowed, imitating him quite loudly, often to the chagrin of their parents. Regulars would bring him treats such as berries or mealworms, and he grew into an unusually large, beautiful, bright orange bird.
Stories of George's special effect on folks are many, but he seemed to have a canny bird intuition as to what someone may need. One day, a young woman came by the store, crying her eyes out. She asked if she could please hold George. Once he was in her arms, she stroked his soft feathers and just held him close. She confided that her boyfriend had just broken up with her and that she was full of despair. George's sweet disposition helped bring a smile back to her face. She may have been holding him, but it was his comforting presence that lifted up her spirit, as it had for so many others.
George was adventurous and loved to take flight — in the car for field trips. He loved to go visit local schools and retirement homes to rooster up a little cheer. One day, he and the hardware store founder, Andrea Ridout, went to the Alzheimer's unit of a community senior center. After everyone took a turn to pet or hold George, one lady spoke up and said, "You know, roosters crow all day, not just in the morning!" Turns out, this woman had not spoken in months, but George had that golden way about him and apparently sparked a memory in her as he sat upon her lap.
George received multiple well-deserved honors throughout the years to crow about. He was named the Best Mascot in town by the Dallas Observer. He also won many blue ribbons, including Best Orpington Rooster several times at the Fort Worth Stock Show and the Texas State Fair. He appeared on TV, radio and in the newspaper on numerous occasions. 
In fact, he was even featured on the popular website Buzzfeed.com. The hardware store celebrated his hatch day every year with a party that was often attended by more than 100 customers and rooster-loving friends.
George became so popular at the store that when the company was sold in 2016, the new owner, Sharon Anderson, kept him on staff and renamed the store Rooster Home & Hardware in honor of him. By this time, George had a wife, Gracie. Together they hatched several chicks who had their daddy's bright orange feathering. 
One day, Gracie became ill with a tumor and passed away. Not long after that, George's own health began to fail and customers noticed that his comb was limp, his crow was weak and he began to stumble when he walked. George's vet was perplexed and did not know what was wrong. Neither medication nor a special diet seemed to help.
The humans who loved George thought that he was lonely without Gracie, so they decided to retire him to nearby Fruth Farm and let him spend the rest of his days, whether that was for a month or a year, living like a real rooster and surrounded by other chickens. The farm's owner, Caroline Fruth, boosted George with some herbal elixirs to help restore his health and soaked his feet daily in rosemary tea. 
Caroline became quite fond of George and loved how he would come up to her every morning, wanting to be held while she made her rounds. Under Caroline's care, the big rooster was soon back to his old self, bright orange feathers shining with renewed vigor. During the last two years at the farm, George became the cock of the walk and spent his days surrounded by hens.
George especially took care of one small chicken who was his bestie, and he would stand up to the other animals to keep her safe. Caroline would often find the little chicken sleeping under George's huge protective orange wing. 
He would sometimes bring treats to his hen friend, such as a mouse that ran through the barn one day. George caught it in a flash and shared it with her — rather uncharacteristically generous for a rooster. Caroline would often watch them with fascination but somehow could never think of the right name for George's hen friend.
Earlier this month, George and his flock were in the barnyard when a storm began to blow in. As Caroline and her husband prepared for the high winds by ushering most of their livestock into the barn, they noticed that George had herded his flock under a nearby tree to keep them safe. In an instant, a huge branch fell off the tree, crushing the entire flock.
In despair, Caroline and Frank searched frantically for survivors and as they gently lifted George's lifeless body, they found his special little hen under his protective wing, still alive. It was a miracle that she survived and so they have named her "Miracle" in honor of George's sacrifice. 
George died a hero that day, but we already knew him to be extraordinary. Anyone who ever met George, held this sweet rooster, had a good giggle — especially after being surprisingly startled by his loud crow, or was comforted by his soft feathers knew that George was always a miracle worker and a hero among roosters. He will be greatly missed by his entire flock — both hen and human. 
By Andrea McEwan Ridout with Jennifer Kate Stuart, Kimyla Guice, Caroline Fruth and Sharon Anderson