By Meredith Jones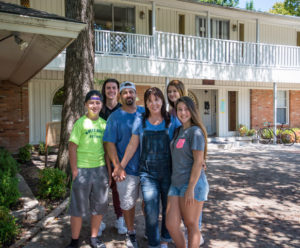 North Texas Giving Day is turning 10 years old and there is a lot to celebrate, including many White Rock Lake-area nonprofits. One of these nonprofits, The Magdalen House, is participating for its ninth year:
Located in Dallas for more than 31 years, The Magdalen House moved to Little Forest Hills 22 years ago. The house has played a vital role in changing the lives of thousands of alcoholic women and their families with a spiritual solution to alcoholism.
Their facility, also known as Maggie's House, is the first and continues to be the only one of its kind in the area to provide a no-cost, recovery program with continued lifelong support.
There are more than 100,000 women who are alcohol dependent in the Dallas-Fort Worth area. It is also known that alcoholism crosses all ethnicities and socioeconomic lines and is a chronic, progressive disease that sadly claims the lives of 26,000 women in the U.S. each year.
To address the needs of women in our community, The Magdalen House offers three distinct programs: a Social Detox Program, a Peer Recovery Program and a Community Outreach Program.
The Social Detox Program is a 14-day, in-house intense orientation to the solution of recovery embodied in the 12-Steps of Alcoholics Anonymous. In 2017, the Social Detox Program served more than 200 women and had a completion rate of 80 percent.
The Peer Recovery Program is for women who complete the Social Detox Program, as well as all women and their families in need of a year-round, supportive recovery community. Every week, there are 26 recovery classes, workshops and meetings where women in social detox interact with women who are in a variety of stages of recovery, from one week out of the house to decades of sobriety. Maggie's House calls it the "recovered helping the recovering." Last year, there were more than 9,000 visits to the house for these meetings.
We partner with a wide array of organizations through our Community Outreach Program, to ensure the best care is available to our clients. Our list of partners has ballooned to more than 120 unique relationships. These partnerships create alliances with other agencies, making Dallas a stronger community.
And all of these services and programs are offered at no cost. The Magdalen House accepts no government funding and is solely supported by private donations and strong community partnerships.
That's why North Texas Giving Day is a great platform for an organization like The Magdalen House to raise awareness and funds. For 2018, they have set an ambitious goal of raising $20,000, which would surpass their totals from the last two years.
To help reach this goal, they are teaming up with The Bar Method — Dallas-White Rock, who will host special donation-based classes and help promote the cause.
A partnership between The Bar Method and The Magdalen House makes perfect sense because they both seek to build healthy bodies, healthy minds and healthy souls right here in East Dallas!
Prospective donors should also know their donations will likely go twice as far, since The Magdalen House expects to secure a $15,000 challenge match, doubling the impact of each gift.
North Texas Giving Day 2018 is Sept. 20 from 6 a.m. to midnight. Leading up to the big day, donors can schedule their gifts online from Sept. 10-19. Visit NorthTexasGivingDay.org for all the details and to check out The Magdalen House's profile page.
For more information about The Magdalen House, visit MagdalenHouse.org, follow on Facebook at facebook.com/themagdalenhouse, or contact Meredith Jones, development director, at [email protected]. For more information about The Bar Method, Dallas-White Rock, follow them on Facebook at facebook.com/barmethodwhiterocklake or visit their website at barmethod.com/locations/dallas-white-rock-lake.