By Krinna Breene
Brooklyn Kennett, a 9-year-old East Dallas resident and fourth grader at Eduardo Mata Montessori school, has a heart for community service and will put in the work needed to achieve her goals.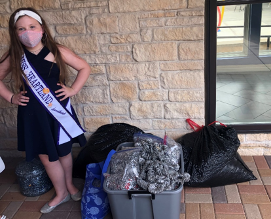 Brooklyn (pictured) started her own non-profit organization called "Care with Flair — Champions for Kids in Need." Her goal is to help all children feel happy, healthy and full. Brooklyn realized the great needs of children locally and globally through volunteering with her family at various organizations, including Feed My Starving Children, The Birthday Party Project and The Ronald McDonald House. 
When the COVID-19 pandemic hit, Brooklyn was determined to continue serving her community no matter what — and through the support of her family, the Dallas Elks Lodge 71, and her National Pediatric Cancer Foundation Share a Smile sisters, she was able to do just that. Brooklyn's largest accomplishment during this summer was collecting and dropping off more than 400,000 pop-tabs for the Ronald McDonald House. The Ronald McDonald house recycles pop-tabs (or pull tabs) off aluminum cans, then uses the funds to cover overhead costs so families can stay close to their hospitalized children at little to no cost.
Then, in August, Brooklyn went on to compete for, and win, an international pageant title. She is your Young American Junior Miss International and is hoping to use her title to elevate her platform of championing for kids in need. In addition to capturing the crown, she also received her third gold Presidential Service Award for having completed more than 100 hours of community service in the last 12 months.
Brooklyn's next service project goal is to fill and donate 50 boxes to Operation Christmas Child. If you would like to donate to her initiative, or build a box online, visit her website at carewithflair.org. After all, as one of Brooklyn's idols, Walt Disney, once said, "If you can dream it — you can do it!"