By Simon Pruitt
Sons of Hermann Hall knows how to evolve. Since 1911, the Deep Ellum venue staple has molded its image from a German-American cultural center, into a swing dancing floor, and now a concert venue.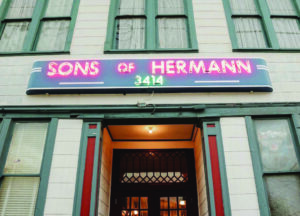 Ask any Dallasite about what the building is and you'll probably get the same answer. "Sons" is historically most successful as the local hub for swing dancing. Before introducing its dance floor, "Sons" was nothing more than a small bar frequented by its club members. 
"First time we did swing dancing, I remember being blown away," recalls Michael Lewis, longtime member of "Sons," "There was a line all the way out the door and down the block."
Lewis has been a member at Sons Of Hermann Hall since the early 80s, originally joining just to fraternize at the bar with local likeminded people. When music took off at "Sons," it soared.
In the spring of 1984, the venue introduced a weekly event called "Songwriter's Sanctuary." The new event served as a home to local artists looking for a place to play their originals. Less than a year later, local radio station KNON 89.3 partnered with Songwriter's Sanctuary and began broadcasting the artists' sets live every Friday.
Many, including Lewis, credit KNON's partnership for the longevity of the venue's music scene. The culture of these weekly shows were crafted through the years to feature Americana and southwestern style music with a plethora of iconic artists to support it. Some highlights include Wilco, Townes Van Zandt, Ray Wylie Hubbard and Old 97s.
The Hall rode this momentum for decades, being seen as one of Dallas' premier art houses. As newer venues began to arise, "Sons" influence began to peter out. Soon, the venue was being seen as nothing but the swing dancing spot for old timers. 
Recently, the venue has bounced back, with three upcoming country concerts set for September and as the backdrop for country star Joshua Ray Walker's latest music video.
"If it's swing dancing, we do it for the love of the Hall." Lewis says. "If it's music, we do it for the love of the Hall. No matter what, that never changes."