By Sylvia Bodell
SPARK! PRISMATIC, a pop-up experience built entirely by local public high school students, takes place from now through August 27 at SPARK! located at Southside on Lamar in Dallas. The colorful exhibition showcases students' one-of-a-kind artwork in an immersive experience with a variety of festooned rooms all done in one single color and theme.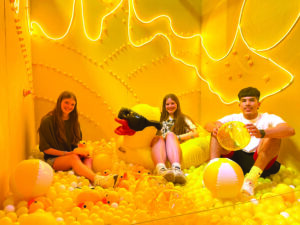 The students designed, created and built this magical exhibit for the community to enjoy, showcasing their creativity. Visitors are encouraged to share their experiences via social media as they are transported to wild locations amidst the vibrant colors. All proceeds benefit the SPARK! mission: to ignite the spark of creativity in all children.
Meg Bittner, executive director of SPARK! said, "We invite everyone to experience PRISMATIC — a vibrant and immersive pop-up with many Instagrammable moments — as you're transported to locations around the universe through colors and sights. You'll be impressed with what these students imagined, created and built." 
Hours are 4-8 p.m. Friday and Saturdays. Sundays are from 1-6 p.m. General admission includes entrance for one hour. To learn more and to make a timed ticket reservation, visit sparkdallas.org/prismatic/ or call 214-421-7727.