CASA VIEW ELEMENTARY
By Nancy Black
R-PIC. V-LOS. B-LOS. Those are a few of the acronyms the Remote Pilot in Command (R-PIC) from DroneUp (DU) used this past week when explaining their process to the award-winning robotics team the Ladybots, from Casa View Elementary (CVE).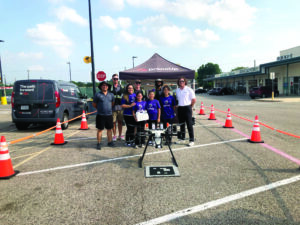 Contracted by Walmart, DU can delivery online orders in select markets across the country within 30 minutes or less. 
Curious about the mechanics and engineering involved in the service, CVE teacher and Ladybots Coach Patricia Aguiñaga Cortez M.Ed. arranged for the demonstration with White Rock Lake Weekly's (WRLW) Editor in Chief Nancy Black.
Walker Brown, hub leader for DU, said each drone has eight motors, two GPS devices, two cameras, lights and a parachute. They weigh about 45 pounds each, can carry an additional 10 pounds of consumer goods and emit very little sound.
Weather is the main factor in deciding if the drones will fly on any given day. The Texas heat may present new challenges to the delivery process, Brown acknowledged. High winds and rain also restrict the service on certain days.
"What makes the drones special?" one young mind asked.
"A drone is a drone," Brown said. "Whatever you attach to it makes it special."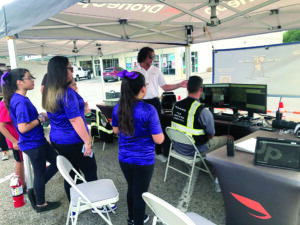 Based out of Arkansas to be close to Walmart's headquarters, DU hopes to advance drone delivery nationwide, not only for retail and food products, but also medical deliveries.
Drone pilots are required to have a R-PIC license and, according to the Federal Aviation Administration (FAA), be at least 16 years old. Pilots make an estimated $50,000 per year once certified.
The delivery process seems simple, but it actually takes three R-PICs for one delivery: one to operate the on-site computer, one to pilot the drone and a remote delivery R-PIC. Currently, a pilot must drive a DU vehicle to the delivery location and guide the drone as it arrives. The drone hovers above the destination, while releasing a wench holding the delivery box. 
Once the delivery box is on the ground, the ground pilot releases the product from the wench and sends the wench back up to the drone. Then, the drone and vehicle both return to the originating hub.
"Doesn't having to have a vehicle follow the drone kind of defeat the purpose of drone delivery?" another curious student asked.
"Yes," Brown said. "But we are hoping the FAA will approve us for Beyond Line of Sight (B-LOS) soon. We only have Visual Line of Sight (V-LOS) approval now."
The demonstration ended with the delighted Ladybots being delivered a special package from Walmart and DU — miniature drone collectible toys and Walmart delivery gift cards. 
The reaction to the Walmart drone service in Dallas has been mixed. "Some people love it, and some hate it," Brown said.
While there may be a wide spectrum of appreciation for the new Walmart service, the Ladybots and WRLW all agreed, the drones are pretty impressive to see in action.