By Kathryn Planos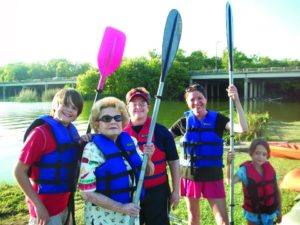 National Safe Boating Week is May 19-25 just ahead of Memorial Day, the unofficial start of summer. In conjunction with this, White Rock Boat Club, Sea Scouts, and America's Boating Club of Dallas have teamed up to promote responsible safety practices for families in and around the water and while boating, including the consistent, proper use of life jackets.
On Sunday, May 20 from 1-5 p.m., a Water Safety Clinic will provide fun activities for families to learn proper personal flotation device (PFD) usage and swim safety. Admission is free and open to the public.
The event is at White Rock Boat Club, 340 E. Lawther Drive, in Dallas (the north side of White Rock Lake near Mockingbird Lane).
"As summer approaches, many North Texas families will spend more time on or near the water, enjoying boating, swimming and paddle sports and with that comes an increased likelihood for accidents and injury if you're not prepared," said Robert Hunt, commodore of the White Rock Boat Club. "Always wear a life jacket, and follow water safety practices to ensure a great time for your family this summer."
U.S. Coast Guard statistics show that Texas has the second highest rate of boating deaths in the country and that 83 percent of those who drowned in boating accidents were not wearing life jackets.
This first ever community event being held during National Safe Boating Week is a great way to reach boaters, paddle sports enthusiasts, and families who enjoy the lake from the shore.
The first annual White Rock Boat Club Water Safety Clinic will feature sessions on various types of PFDs (aka life jackets), an interactive life jacket fitting station, instruction on boating safety and swim safety, and children's activities.
For more information, visit safeboatingcampaign.com or whiterockboatclub.com.