By Juliette Coulter
Texas Women's Foundation (TXWF) and the Dallas Mavericks W.O.M.E.N. ERG held a joint event with the Young Women's Advisory Council (YWAC) to share career advice and network with young female leaders. The Foundation's community partner, Healthy Futures of Texas, hosted the event on Feb. 16 in the Wilson Historic District.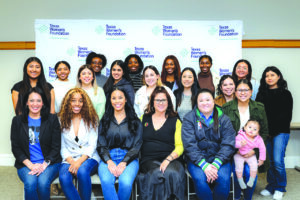 The conversations were documented in a short video that was shown at the Dallas Mavericks game on March 2nd to tip off Women's History Month.
Started by Texas Women's Foundation, the Young Women's Advisory Council (YWAC) is a program of the Young Women's Initiative (YWI) to empower and affirm young women of color ages 12-24. Through research, collaborative grantmaking and advocacy, YWI-Dallas and YWI-Houston are amplifying the collective power of young women to identify and address core issues and create solutions toward meaningful systemic change. 
One benefit of being in YWAC is having access to the Foundation's supporters—the Dallas Mavericks. Cynt Marshall, the Dallas Mavericks CEO, is also on TXWF's board of directors. 
Those on the panel included the following: 
• Erica Wilson and Alayjah Lee – Healthy Futures of Texas
• Anu Shekar, Ph.D. – SMU Center on Research and Evaluation – Evaluator
•Misaki Collins, Jessica Sabedra, Angela Nguyen, Bri Mathis, and Desiree Scott – Dallas Mavericks W.O.M.E.N. ERG
Kelly Lozano, a YWAC member, said, "I learned the value of networking and women supporting one another. It is important to value each other and help other women so we can all be better."
Misaki Collins, YWAC alumna and Dallas Mavericks external relations manager, said, "This is a full circle moment for me as a Young Women's Advisory Council alum and now being a Woman of the Mavs taking the time to teach current YWAC members how to network and prepare for their career journey."
Miki Woodard, Texas Women's Foundation president and chief executive officer, added, "Thank you, Women of the Mavs, for investing your time and talents into our YWAC members, who will be the leaders of the next generation. Your words of wisdom, your presence and your encouragement will pay dividends as our YWAC young women prepare to enter the workforce." 
To learn more about YWAC and YWI, visit https://txwf.org/young-womens-initiative/.