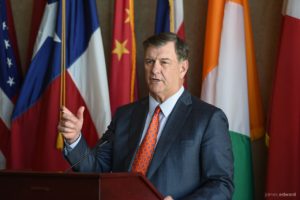 By Becky Mayad
Urging businesses and nonprofits to sign up by March 15, Dallas Mayor Mike Rawlings this week kicked off the 11th year of the Dallas Mayor's Intern Fellows Program with an aggressive campaign to increase the number of businesses providing eight-week paid internships to Dallas public and charter high school students this summer. Joined by dozens of employers who have provided internships, Mayor Rawlings asked the business community to dig deep and invest in "our youth and the future of our city" so that more high school students can take advantage of these invaluable real-world internships. He also reminded high school students that their registration deadline to apply is Jan. 31.
"Businesses ask me all the time 'What can we do?' and my first response is to sign up for the Mayor's Intern Fellows Program," Mayor Rawlings said. "There is no greater contribution a city can make than educating our children, and the Mayor's Intern Fellows Program is a great way for public high school students to make the connection between a college education and great career. I truly appreciate the businesses that step up each year to invest in our youth and future workforce."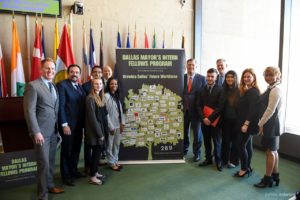 In his call to action, Mayor Rawlings asked businesses to increase the number of interns at their workplace and to recruit vendors, customers, clients and neighboring businesses. And if a company cannot sponsor an intern at their business, he said they can underwrite an intern to work at a local nonprofit agency or be a program sponsor.
He also made a plea to small- and mid-sized businesses — who illustrate the spirit of entrepreneurship — to join the effort in hiring a teen. To sign up, go to mayorsinterns.org by March 15.
Students have until Jan. 31 to submit their applications for an internship at mayorsinterns.org. This year, interns will receive a $1 raise — making at least $10 an hour working 20-to-40 hours a week. To date, the interns' cumulative payroll is more than $4.6 million.
The eight-week internships will begin June 11 and conclude Aug. 3. The Mayor's Intern Fellows Program celebratory luncheon is July 27 at the Hyatt Regency Dallas.
Mayor's call for action aimed at businesses added by whiterocklakeweeklyadmin on
View all posts by whiterocklakeweeklyadmin →