By Karissa Condoianis
Saddle up, folks — the State Fair of Texas is proud to announce the lineup of pre-Fair horse shows leading up to the opening of the 2023 State Fair of Texas. Starting on August 11 and running each weekend prior to the Fair, these family-friendly shows are free to the public and will take place in the air-conditioned Fair Park Coliseum. Horse exhibitors can now sign up to be the first to know when entries open online at BigTex.com/Horse.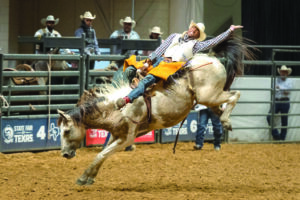 The 2023 pre-Fair horse shows include:
• RSNC Ranch Sorting (August 11-13)
• Donkey and Mule Show (August 19-20)
• Women's Breakaway Roping (August 25)
• Youth Rodeo (August 26)
• Barrel Race (August 27)
• Team Roping (September 10)      
Included in the above listed events, the Fair is proud to bring back Women's Breakaway Roping for a second year. 
One of the fastest-growing categories in western sports and rodeo, the event was sanctioned by the Women's Professional Rodeo Association in 2020. The entry process for horse exhibitors is now available at BigTex.com/Horse. 
These events are free and open to the public — grab your partner, kids or even your neigh-bors to come out and enjoy some good ol' fun before the State Fair officially opens. 
The 2023 State Fair of Texas will run in Fair Park from Friday, Sept. 29 through Sunday, Oct. 22.