By Warren Black
From the time we drove up on the gigantic complex with the Broadway Tent at Grandscape in the Colony I was impressed. If you haven't experienced the grandeur of the explosive growth of The Colony, Texas you are missing out. From the massive Nebraska Furniture Mart, the enormous Ferris Wheel and the huge Scheels Sporting Goods Store, which could hold two Bass Pro Shops inside, the mall is impressive.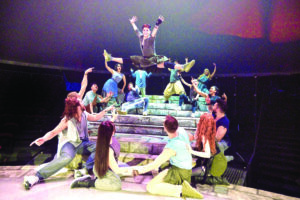 The Broadway Tent was clean and well run, and free parking was ample and convenient. "His Story: The Musical" depicted Christ's life brilliantly, from the creation of the world to His resurrection. The simplistic but creative stage and scenes enhanced the story. The young cast did a great job with an all original score telling the story of Jesus's birth, His life, death and resurrection. 
Mary, Joseph and the Holy Spirit gave a heartwarming rendition of Mary's encounter as she was notified she would be the mother of the Christ. Equally moving was Mary and Joseph's struggle with accepting the immaculate conception of an unwed mother and her fiancé. 
The birth of Jesus and his infancy was a joy to see presented on the stage. Mary Magdalen's struggle with her life as a prostitute and her encounter with Jesus offering her redemption was powerful. Magdalen's voice stole the show, and the original score was amazing. 
Peter's unexpected encounter with Jesus during a frustrating fishing trip was fun to watch. His excitement grew and grew as Peter realized that Jesus was performing a miracle before his very eyes as his nets suddenly were full of fish.
Judas' struggle with betraying Jesus to the chief priest of the Jews pulled at the heartstrings. Jesus's torture and crucifixion was well dramatized despite the obvious limitations. The special effects of the resurrection showcased the creative powers at work behind the scenes. 
"His Story: The Musical" features Max Kuenzer as Jesus, leading a company of primarily home-grown local Texas artists, including Lily Gast as Mary Magdalene, Richard Chaz Gomez as Judas, Jataria Heyward as Mother Mary and Logan Dolence as Joseph. 
"Did all this for us" provided the powerful takeaway from this brilliant performance. The special effects of the dome ceiling, the rising and lowering of the revolving stage, the creative lighting and the sound all helped create the magic that only a live stage musical performance can deliver. 
Whether you came to scoff, be entertained or worship, this musical is for you, "and all about you!"